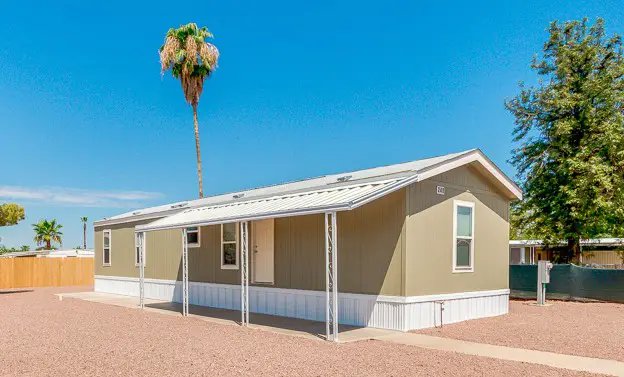 So you've decided to purchase a mobile (manufactured) home! Now you're faced with the decision as to whether a single-wide or a double-wide home would best fit your needs?
Short Answer
Like most things, it just all depends? On what? There is a lot more detail to get into if you want to make the right decision for yourself, but in a synopsis form, here is the condensed version:
Purchase Cost – Whether new or resale, single-wide mobile homes will almost always be less expensive than the equivalent sized double-wide home.
Setup – The cost to put in place and setup a single-wide mobile home will be about 50% of the cost to do a double-wide.
Space – Single-wide homes can run anywhere from about 700 to 1,600 square feet. Most will fall into the 800 to 1,000 square foot range. Double-wide homes will generally range in size from about 1,100 square feet up to the top end at about 2,400 square feet. The average double-wide is typically from 1,300 to 1,500 square feet.
Floor Plan – By their nature, single-wide homes feel long and narrow. The rooms must line up in a row and there is little flexibility. Double-wide homes can be configured in far more variations, often making them feel more like a traditional stick-built home.
Livability – A long, narrow single-wide home will feel more cramped than a double wide of similar size. If there are more than 2 people living in the home, there will almost certainly be more comfort in the wider home. Also, since many double-wide floor plans can almost do away with any hall space, there is less wasted square footage inside the double-wide home.
Maintenance – It should be about equal for either home, unless there are settling issues that cause the two haves of the double-wide home to break the seal between them.
Resale – Since the floor plan of a double-wide is more desirable than that of a single-wide home, a double-wide home will almost alway command a higher price that a similarly sized single-wide home.
Now that we've got the quick and dirty answers out of the way, let's unpack this subject in a bit more detail to see which type of home would best serve your needs.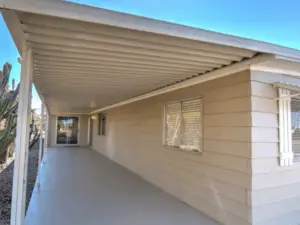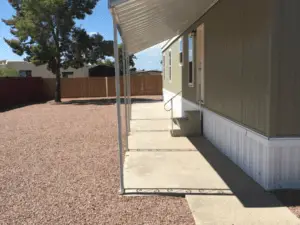 Single Wide Manufactured Homes
Single-wide mobile (manufactured) homes are built as a single unit. Over the years, single-wide homes have certainly grown in size:
1940s – The mobile home really got its start just after WWII. Trailers from this area were generally 8 feet wide by 20 to 30 feet in length.
1950s – As the demand grew for mobile homes, the size grew as well. The common width grew to 10 feet wide and from about 40 to 55 feet in length. The homes were becoming large enough inside to have separate bedrooms and bathrooms from the general living areas.
1960s – As Americans, we typically like more, bigger, and better. The mobile home industry kept up with the times. A very common size for mobile homes in this decade was 12 feet in width and about 60 feet in length. Many of these homes now had 2 bedrooms and 1 bathroom. Towards the end of the decade the width of many mobile homes grew to 14 feet.
1970s – A 14 x 70 is a common size for homes from this area. They would often have 2 or 3 bedrooms and 1 1/2 or 2 bathrooms. In 1976 legislation was passed requiring mobile homes to be built to Housing of Urban Development (HUD) standards.

 

1980s – Although 14 foot wide single-wide homes were the norm, homes grew to 16ft wide in some areas, with lengths up to 80 feet.
1990s and beyond – In certain areas, single-wide mobile homes are available in widths up to 18 feet and lengths up to 90 feet. This theoretically makes a single-wide home up to 1,620 square feet. However, that is one long unit!
As a single unit, these homes are generally less expensive to build, transport and setup on-site.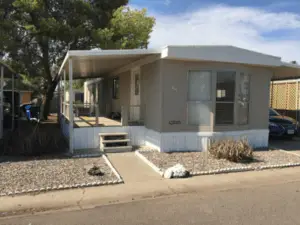 Single Wide Prices
Since a single-wide home is generally less desirable than a double-wide, the price is usually lower as well. It is common to find new single-wide homes in 2020 priced from about $30,000 up to about $60,000. There is a wide variation in the size and options that can be ordered in a new home, so the price range reflects this.
Used single-wide homes vary greatly in price. Mostly depending on the size and condition of the home. We have remodeled and sold late 1970s 14 x 60 to 70 foot mobile homes for as much as $31,000 in the general Phoenix metro area. These are homes that were in very poor condition that we remodeled.
As an example, the single-wide mobile home that we sold for $31,000 was original purchased for $1,000. However, that didn't turn out to be a good flip. Take a look at the post regarding that house! In our market, we find many post-1976 (HUD) qualified single-wide mobile homes in decent to good shape that sell for $10,000 to $20,000. However, if you keep your eye out for a fixer-upper, there are plenty out there that you can pick up for next to nothing.
Don't get too excited about the really bad ones, as many of them are simply not worth the cost of the remodel.
Single Wide Setup Costs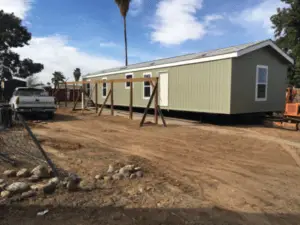 Of course, the type of setup you're doing will have a great affect on the cost. If you're doing a ground-set home with awnings and cement flatwork on both sides, you can easily spend up to $20,000 or more. However, if you keep it a simple above ground set, with skirting, you can get by for around $5,000 to $7,000. For additional information on moving and setting up a manufactured home see "How Much Does It Cost To Move A Mobile Home?"
Single Wide Space
By it's nature, a single-wide mobile home is rather long and narrow. It has this appearance on the outside, and the inside generally doesn't feel any different. You'll find single-wide mobile homes ranging in size from 700sf up to 1,600sf. One of the most popular sizes of older single-wide mobile homes is about 14 x 60 to 64 feet. This gives an interior space of around 850 to 950 square feet. About the size of a small 1 to 2 bedroom apartment. The majority of single-wide mobile homes will be about this size.
Keep in mind that if the home 14 feet wide, that includes the thickness of the outer walls, so the actual interior width of the home will be closer to 13 feet wide. Many single-wide homes built since the 1990s are 16 wide. So the interior width dimension of those will be close to 15 feet. That one extra foot makes a big difference on the feeling inside the home.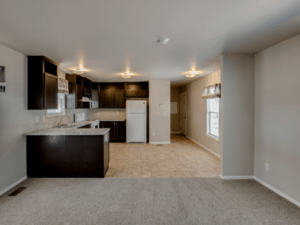 Although single wides are available in length of 80 to 90 feet, there are fewer lots or parks that can accommodate that type of length. The vast majority of single-wide mobile homes you'll find are between 60 and 70 feet in length.
Single Wide Floor Plans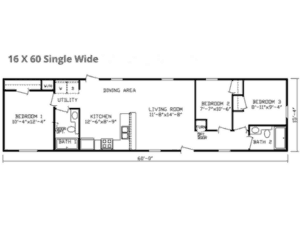 As mentioned, these homes tend to be long and narrow. You'll often find the following rooms in a single-wide mobile home built from the 1970s forward:
1 to 3 bedrooms

2 bathrooms

Kitchen, dining, and living area combo

Laundry area
For space efficiency, bedrooms tend to be at the very front and rear of the home. The other areas towards the middle. Since all of the rooms line up in a row, there is almost always a rather long and narrow hallway connecting the secondary bedrooms, laundry area, and secondary bathroom to the living area.
Also, because all of the rooms must be arranged singly along the length of the homes, there are few variations of floor plans in a single-wide mobile home.
Single Wide Livability
There is no need to brow beat the single-wide, but, the livability feels more cramped than a double-wide of similar square footage. Again, being long and narrow will always give you more of a cramped feeling. For a single person or a couple, this might be ideal, but if you have a family, the limited space and narrow hallway can be confining and tiresome.
Single Wide Resale Value
For an equivalent sized home, a single-wide costs less to purchase when new, and it will also bring less money when it comes time to sell. Having purchased and sold many mobile homes, we find that a single-wide will sell for prices of about 70 to 80% of what we can get for a comparably sized double-wide.
This is attributable to the exterior appearance and the interior livability. A double-wide home simply looks a bit more like a traditional home, and has a better configuration for the floor plan.
Double Wide Manufactured Home
Double-wide mobile homes are known as "double" because they are made of up two separate units. From the factory, they are built as two sections, which are then transported separately to the site. They are then joined together during the setup process. Double-wide manufactured homes first made their appearance in the 1960s.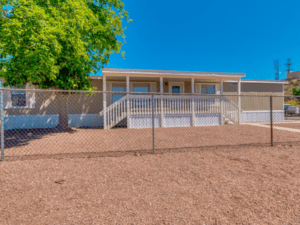 Double-wide homes today range from about 1000sf on the small side up to a theoretical 3,240sf for a 36ft x 90ft home. Personally I've never seen one quite that large, but I have seen several up to about 2,400sf. The most common sizes tend to be about 1,300sf to 1,800sf. Just like with single-wide homes, the width of double-wides have increased over time.
1960s – The first appearance of this configuration appeared. The two halves were generally either 10ft or 12 ft wide, making the overall home 20ft to 24ft in width.

 

1970s – Most homes were from 24ft to 28ft wide. These were made from joined 12ft or 14ft sections.
1980s – 14ft and 16ft wide sections gave common widths from 28ft to 32ft. These are still the most common widths of double-wide homes today.
1990s to current – When federal law began to allow the transportation of 18ft wide sections, the width of a double-wide home could be up to 36ft. However, many states do not allow this size of home or section to be transported on public roadways.
Double Wide Prices
The prices for a double-wide manufactured home can have a vast range. The lowest prices would be around the $40,000 mark for a small 1000sf model, and up to $150,000 to $200,000 for a top optioned 2,400sf model.
The vast majority of double-wide homes are found in the 1,300sf to 1,800sf range. Prices for homes in this range will generally cost from about $55,000 to $90,000. Keep in mind that these are the prices for just the home itself and does not include land or setup costs.
Double Wide Setup Costs
The cost to setup a double-wide home will vary greatly depending on the following:
Will the setup be in a park or on an owned parcel of land?

Are utilities already installed at the site?

Permit fees vary widely from one locale to another.

Will the home be ground set or be above grade?

Will cement flatwork be installed?

Will awnings or sheds be installed?
PARK SETUP – It costs far less to set up in a park setting. The utilities are permitted and already in place. Often, the cement flatwork is in place as well if another home had already been on the lot. The real variation in cost for a park setup will be whether or not the home is to be ground-set, or above ground.
Typical cost for an above ground setup would be about $10,000 for a basic above-ground situation without cement or awnings. This can range up to $20,000 or more if the home is to be ground-set along with cement flatwork for driveways and awnings.
BUYER OWNED PARCEL OF LAND – If you own the land where you plan on installing the double-wide mobile home, the costs will be significantly higher than in a park setting. You will be required to get permits and fees. In some locales this can cost up to $10,000 by itself. 
If the property does not have the utilities installed, that can cost another $3,000 to $10,000 depending on whether or not you have to install a septic system, or hookup to an existing sewer. Permits will be required for each utility installed; electric, water, gas, etc.
The remainder of the cost will be similar to the costs of a park setup, anywhere from about $10,000 to about $30,000 depending on the same variables as discussed in the park section. Conceivably, you could spend up to about $50,000 in to install a double-wide manufactured home on your own parcel of land. Generally, the cost will be closer to $30,000 to $40,000.
Double Wide Space
As mentioned previously, the average double-wide manufactured home will have about 1,300sf to 1,800sf. However, they can range in size from around 1000sf up to 2400sf. In theory, it would be possible to have a double-wide home that is up to about 3,600sf if you max out the size of 36ft x 90ft. I have never personally seen a home this large, but I've seen many from about 2,200sf to 2,400sf.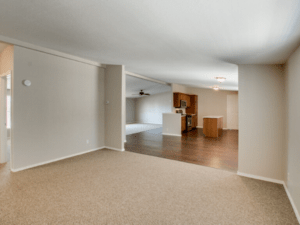 The most common sizes are 28ft to 32ft wide, and 48ft to 52 ft long. This will yield homes from about 1,344sf to 1,664sf. With a double-wide manufactured home, there is enough configurable space inside to have a comfortable 3 or 4 bedroom home with 2 or more bathrooms.
Double Wide Floor Plans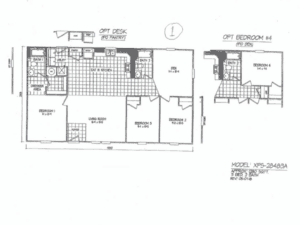 Double-wide manufactured homes are not the long and narrow dwellings that a single-wide home can be. Since their physical dimension can be an square to a large rectangle, the floor plans can be very flexible in design. The living areas of these homes can be drawn up to be very similar to the floor-plans you might find in a traditional stick-built home. 
Because the middle of the rectangle can be dedicated to the living areas, kitchen and dining, the bedrooms and bathrooms can then move to the two sides of the floor plan. This design is extremely efficient as it almost doesn't need any hallways.
You'll find many of the newer homes with either 8ft or 9ft flat ceilings, just like in a stick-built home. With the 9ft ceilings, there are even options for things like tray ceilings, to add a bit of elegance. In most of today's upscale manufactured homes, you'd be hard pressed to tell what kind of a home you're in. That is a high compliment indeed to the advances in manufactured homes.
Double Wide Livability
The inside layout of double-wide manufactured homes can be very similar to a traditional home. As such, the home can feel and be spacious without some of the confining feelings that a single-wide home might give. Depending on your lifestyle, and your stage of life, a double-wide manufactured home can be a perfect fit.
Double Wide Resale Value
Keeping in mind that it costs more to both buy and to setup a double-wide home over a single-wide, the resale value is commensurate. We find that when it comes to selling any of the mobile homes that we mixup for resale, it is always easier to sell a double-wide home. 
A double-wide looks more like a traditional home, especially if it is ground set. The space and the configuration of the floor-plan just works better than in a single-wide home. These things make them more desirable in a resale market. 
We find that regardless of age, a double-wide home will sell for 20% to 50% more than a similarly sized single-wide home of the same approximate age. The difference in the percentage has to do with factors such as whether the home is on it's own land or whether it is in a park; as well as how many features it has such as awnings, parking, or even a garage.
Buying Resale Manufactured Homes
If your plan is to buy a resale manufactured home, you can likely save substantial money over buying a new one. Why? There is lots of conjecture in the industry that used manufactured homes depreciate in value. This is mostly true in the first 10 or so years of the life of the home. 
The biggest reason behind this, is because of the expensive setup and improvements that must be done in order to place a manufactured home on land and get it ready to live in. Once that has been done and somewhat amortized over the first 10 years, the prices of used manufactured homes pretty much rise and fall with the rest of the market.
There aren't nearly as many manufactured homes in existence as there are traditional homes, so finding the perfect home, location, location, location, may be the most cumbersome part.
Buying an existing resale home in a park is the best way to get a great deal. When a manufactured home has been set up on its own land, the home may be "affixed" to the land, causing it to be classified as real estate. When a manufactured home qualifies as real estate, the financing options open up greatly, causing the overall price to be higher.
Used manufactured homes on rented land in a park do not qualify as real estate and the financing options are far more restrictive. This puts pressure on the price to be lower than it would otherwise be.
Many newer manufactured homes may not have been cared for and maintained the way that they should have. This is an opportunity to pick up one SIGNIFICANTLY below the price of a well maintained home. Often, the deferred maintenance is cosmetic in nature, with the structure of the home being in good condition. 
Buying New Manufactured Homes
We've pretty much explored this option extensively in the section above. As a recap, there is a tremendous amount of cost associated with moving a new home to the site and setting it up. This is all part of the cost of buying a home. In the beginning, these costs are generally financeable with the purchase of the home, whether in a park or you your own piece of land. However, once the home has been set up, let's say in a park, it is nigh impossible early in the life of the home to get back what you paid for the home if you choose to sell.
Knowing your plans for the home are important when deciding whether or not to buy new. If you own your own piece of land, and the house, once affixed to the land, can be considered real estate, then if you buy a new home, the value is not as likely to drop early in the life of the dwelling.
If you're buying a home for a park setting, we have found that it is far more financially prudent to find a resale home to buy. Buy it for less, remodel it to your hearts content and enjoy a nice home for far less than you would have spent on a new manufactured home.
Buying A Manufactured Home To Live In
Are your plans to live in the home? If you're over 55, buying a manufactured home in an age restricted community can be a great way to live in a well cared for community and save significant money over a similar traditional home. Many older people also buy these homes as a second home in warmer climates such as Arizona, and Florida.
Many families also find a manufactured home an affordable way to be able to own their own home, where they might not be able to otherwise. 
As a real estate professional, we always try to help our clients look closely at the investment side of their buying decisions. Here, I'll refer to the discussions already stated in previous sections. If you're going to live in the home yourself, put serious consideration into an area where you can own the home and the land itself, so that together, the investment is considered real estate.
By doing this, the home will have far more financing options if you go to sell it. The more financing options a home has, greater is the likelihood that the price of the home will be higher, and easier to sell.
Buying A Manufactured Home For A Rental Investment
Buying a manufactured home as a rental property investment can be a very profitable endeavor, as many investors can tell you. Why? The price of a manufactured home will usually be significantly below the price of a similarly sized traditional home. Yet, the rental price is often fairly close in value.
For example, I purchased a 1979, 1,300sf double-wide rental property on its own piece of land for $70,000 last year. In our market (east valley of the Phoenix area), an older home of similar size would cost about $220,000 to purchase. The home I purchased was in rough condition, and it cost about $25,000 to bring it up to a beautiful standard with new kitchen, bathrooms, widows, flooring, fencing, etc.
That home will now rent for about $1,200 per month, or $14,400 per year. The traditional home purchased for $220,000 will rent for around $1,400 per month, or $16,800 per year. 
This means that the double-wide I purchased, even after renovations, will rent for about 15% per year of my $95,000 investment. The site built home at $16,800 per year will rent for about 7.5% of the $220,000 invested (this also assumes there were no renovation costs to the home). 
Also, at least in our market, the value of both homes will rise and fall with the overall market.
Buying A Manufactured Home To Flip
Many investors, myself included will often purchase manufactured homes just to renovate and sell for a profit.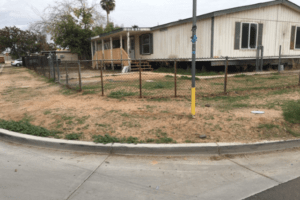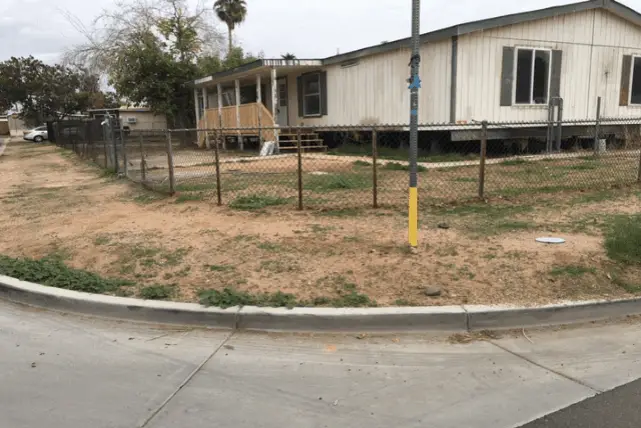 The manufactured home I listed in the previous section could sell for about $150,000 in our current market if I chose to sell. That home, even after all costs of renovation and selling would net a profit of about $40,000 profit.
Currently, we have two other mobile home renovations going on; both of these homes are in parks:
CCV147 – This home is an older 1977 single-side 14ft x 70ft, 2 bedroom, 2 bath. Initially, it appeared to be in "ok" condition. I paid the seller $2,000 for the home, and have invested an additional $6,000 in renovations. This home would rent for about $750 per month. The park rent is $525 per month, so my net rental payment would be $225 per month, or $2,700 per year. This amount is 33% of my total investment. Selling this home should net about $15,000, or a $7,000 immediate profit.
ASP266 – This is a 1983 double-wide home of about 1,300sf in a well maintained family park. There was some water damage that occurred as a result of the washer overflowing as well as a couple of roof leaks (minor). The home was in overall great condition. I paid $4,000 for the home, and will be investing about $16,000 in the remodeling costs. I plan to sell this home for about $45,000 when completed for a profit of about $20,000.
It is not easy to find these deals, but they certainly are out there, in most every market in the country. The key is knowing your market well before making the purchase.
Related Questions
Are manufactured homes of a lower quality than traditional site-built homes?
Many people have the perceived idea that manufactured homes are of a lesser quality than a site-built home.
The HUD (Housing of Urban Development) code regulates all aspects of the construction for manufactured housing. This includes the design and overall quality as well as the strength and durability of the structure. It regulates things such as energy efficiency, fire resistance, heating and plumbing, electrical, and thermal efficiencies. There are mandatory requirements that must be met and HUD ensures compliance with these standards through an inspection system that takes place as the structure goes through construction at the factory. 
There are also three different wind zones that HUD requires manufactured homes to be built to meet one of the three depending upon where the home will be placed. For a better understanding of these zones see this map link. 
What is the life expectancy of a mobile home?
The U.S. Department of Housing and urban Development (HUD) tells us that the manufactured homes built today have a life expectancy of 30 to 55 years; of course depending on how well they are maintained. We feel this is a good estimate for the middle ground. In our experience we have seen some homes even older than 55 years that are in amazing condition. We've also seen others that are less than 15 years old that seem ready to be scrapped.