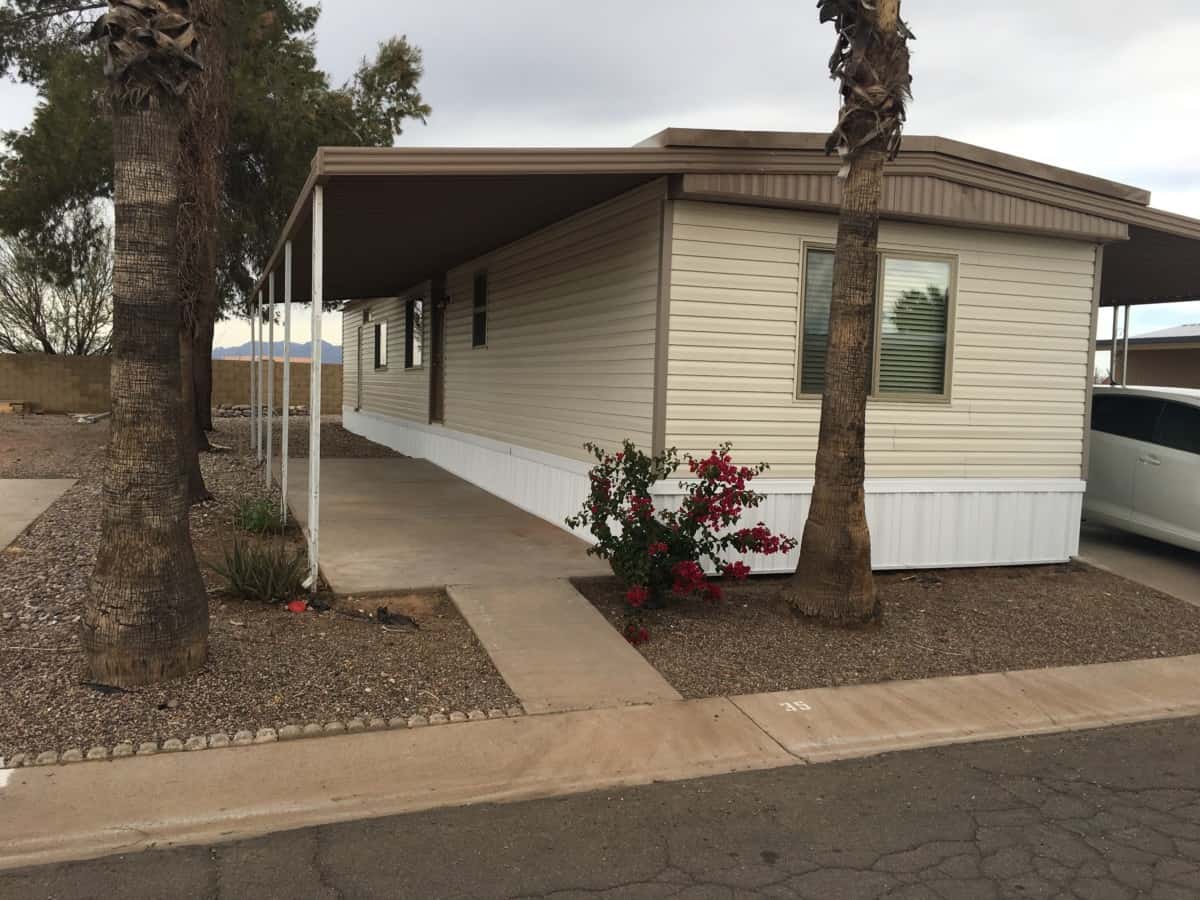 Short Answer
Our previous experience with remodeling and flipping certainly helped us in all aspects of our first manufactured home remodel, but it also caused us to make some mistakes that we might not otherwise have made.
We ended up selling the house for $3,000 down and carrying a note for 8 years on the balance. The house sold for $1,000 more than we had into it, but, we had to wait 8 years to get all of our invested capital back. This wasn't the successful deal we had originally planned on.
Follow along and we'll show you what we did right, wrong and what we learned in the process!
Making The Purchase
One of the greatest things we learned from our studies on manufactured homes was to visit the local mobile home parks on a regular basis. As part of a weekly schedule, Scott or I would make rounds through the parks, look for any homes for sale, and stop by to chat with the park manager. Getting to know the manager helps them to become comfortable with you.
There park where our first deal was located was a large park, over 400 spaces that at one time had been a 4 star park. However, over the years, it had been neglected and there now were lots of empty spaces, the roads were badly in need of repair, and overall the park looked ignored. I'd give it a 2 star status.
One day when I visited, the park manager told me she had 3 different park-owned homes that she was willing to sell. She took me around to see all three. After viewing them, all in shambles, I wondered if I was even doing the right thing wanting to fix up manufactured homes. Two of them were so far gone that I did not want to have anything to do with them. But, the third house, although extremely rough was a doable project. It was a 1981 14 x 70, three bedrooms and 2 bathrooms.
The park manager initially told me she wanted $3,000 for the house. I answered that it was far too rough to pay that for it. I offered her $1,000 and after checking with the corporate owners, they agreed to take it. They also offered me 3 months free park space rent so I had time to get the home fixed up and sold.
So, What Was The Condition Of This Mobile Home?
From the outside of the house, I noted the following:
Several broken windows

Aluminum siding with plenty of dents around the house

Full length aluminum awnings running down both sides of the house

Large built-on storage shed on one side

Skirting badly damaged and/or missing in various places around the house

Steps on both sides that were old and dangerous
So, the outside had some good and bad things about it, just like I expected, But, when we went inside is when the fun really started. The house was full of junk. Whoever had lived there last had pretty much left everything. The smell of the home is what hit me first. As I entered the door, I was hit with a wall of stink that defies description. I'd dealt with unpleasant smells on many of our other remodeling projects, so that didn't really worry me much.
Once inside, I noted:
Sloping floors throughout the house

Many soft spots in the floor

Original early 1980s mobile home decor (nothing had ever been upgraded)

A kitchen with cabinets broken that looked awful with doors hanging off of the hinges

One bedroom had a ceiling that had been leaking so badly that the ceiling had caved in

The master bath had water damage everywhere with plenty of holes in the floor

No HVAC system

Broken windows in many rooms
I knew that we certainly had our work cut out for us, but I was excited to turn this ramshackle house into a home that I would be willing to live in (my first mistake)!
Before Pictures
I have to apologize for the scarcity of both before and after pictures of this remodel. At the time, I had not gotten into the habit of photographing everything. These will give you an idea of the condition of what we were dealing with. These pictures were taken after we did the initial cleanout of the house.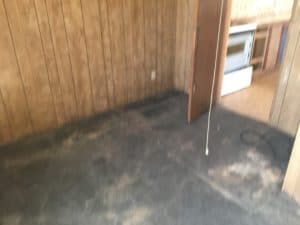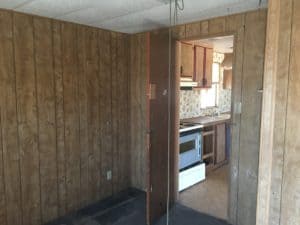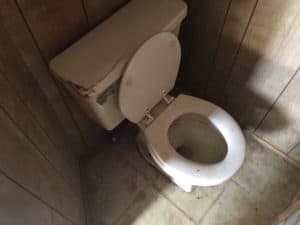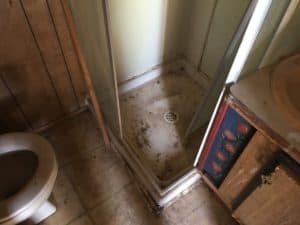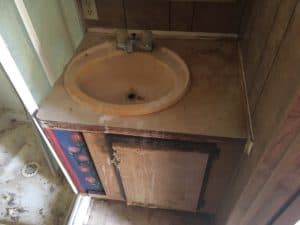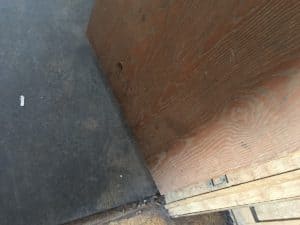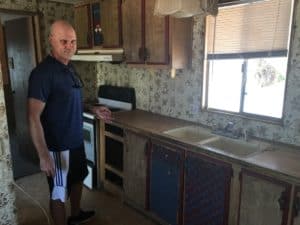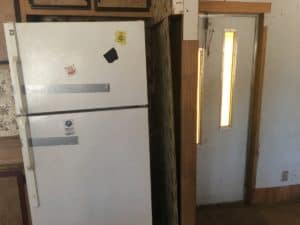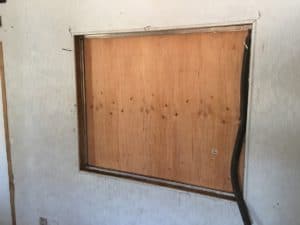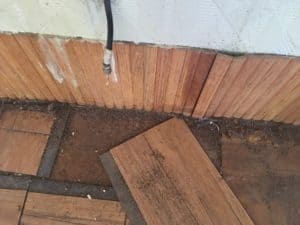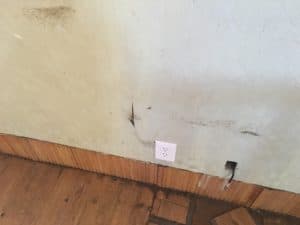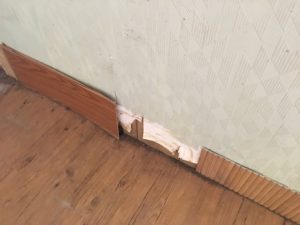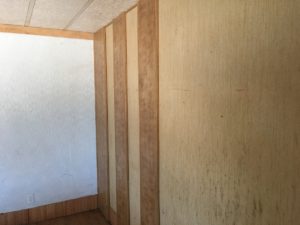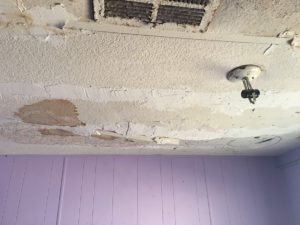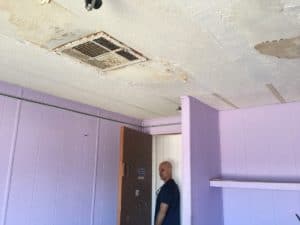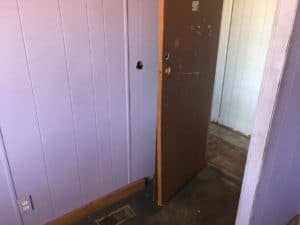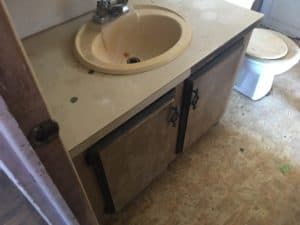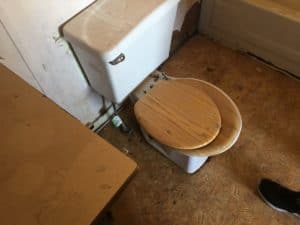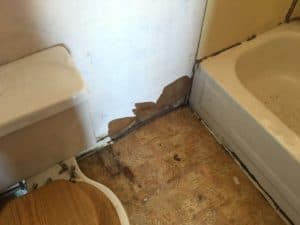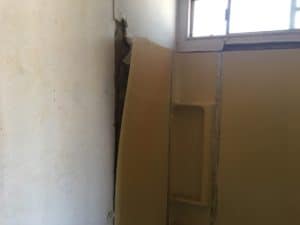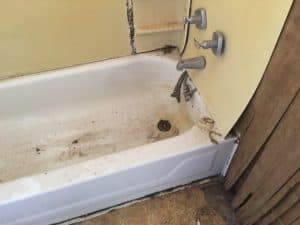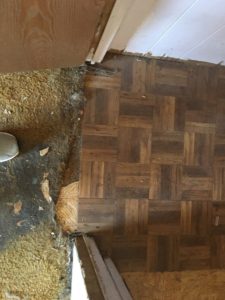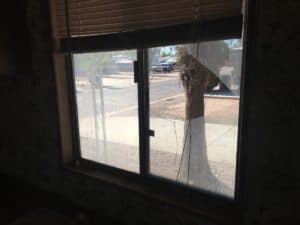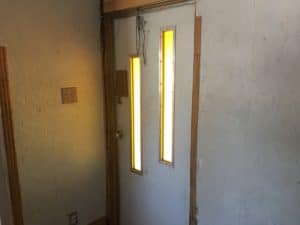 Peeling Back The Layers Of The Onion
Since we had been flipping and remodeling stick-built homes for quite some time I had quite a few contractors that I was familiar with and trusted. I had my main contractor come over to the mobile home with me to take a look.
His face was priceless as we entered the home. I could see that he was almost speechless and was in shock that I wanted to fix up this mobile home. This was especially true when we got into the bedroom where the ceiling was caving in.
Everything always looks worse when it is dirty, so I figured that the first thing we'd to was to clean the place out. I got on Craigslist to find someone with a truck that I could get to come over and clean the place out. The shed was full of junk as well as the house.
In addition to the clean out, I had this handyman remove all of the light fixtures, 2 walls, and all of the cabinets. Once it was clean, I felt much better about the project. It didn't look nearly as bad.
This particular manufactured home had a great floor plan for a 14 x 70 house. It had a front bedroom with a bathroom, and then 2 back bedrooms which shared a bathroom. By removing a partial wall, I was able to change up the kitchen to a nice open floor plan for the kitchen and living area.
With everything peeled back, it was much easier to see what we needed to do to this house. I had my contractor come back and take a look. I could see the wheels in his mind working as well. This home had old paneling and the typical acoustical ceiling panels. We decided that the house would look great if we drywalled the entire house and replaced all of the doors and frames with regular house doors.
I didn't realize it at the moment, but that decision turned this from a $10,000 remodel into a $30,000 remodel. Yes, you read that right! We spent a total of almost $30,000 fixing this house up for resale. I'm now embarrassed to even admit it, but it did look REALLY GOOD when we finished.
What Would The Market Value Be When We Finished?
This was our first outing working on a manufactured home. This was a home located in a large but tired looking park; I'd give the park 2 stars. I had no idea really of what a house in this park would even sell for. There were a few nice homes here and there throughout the park.
I knocked on a few of those doors to find out what those folks had paid for those homes. It looked to me that the going price for nice homes was up to about $30,000. At the time, I thought this is great, I'll have about $12,000 to $15,000 into this house and I'll sell it for at least a $15,000 profit. If only things had worked out that way.
On either side of my house was an empty space. On one side of that space was a double-wide house that another guy was remodeling to flip. I talked with him at length. He had fixed up a few homes in this park and had no problem selling them for around the $30,000 mark. He told me that he always carried the note for the buyer on the home.
I went through the house right before he sold it. I thought it was fixed up pretty nicely, but there were so many inconsistencies throughout that I thought detracted from the house. Things like mismatched doors, hardware, cabinets and light fixtures. He had the house sold for $33,000 within a week.
Even though the two houses were of similar size, his was a double-wide so it would probably worth a bit more. I figured that my mobile home would be fixed up better than his so I would be able to sell it for about $30,000.
Great! I'd come up with a figure that I thought would be a good value for the house when finished, so all there was to do now was to get the house ready. That seemed simple enough. After all, I'd remodeled over a hundred properties, how difficult would a single-wide mobile home be?
Deciding What To Do With The Remodel
Admittedly, I thought that at most I'd be spending $10k to $12k to complete this mobile home that was in shambles. After all, we were only dealing with a 980sf home. There was certainly lots that needed to be done, but rather than make a formal plan for what would need to be done, we just dove in and started. I had my budget in my head, but over the course of the remodel, I would allow myself to be easily persuaded to do more and more.
Repairing The Roof
In one of the bedrooms of this house, the roof had literally caved in. The trusses were still in place, the the leaks had caused the acoustical panels and all the insulation to fall into he room.
Once on the roof, we discovered that at one time there had been an old evaporative cooler on the roof. The patch panel that covered up this hole in the rolled roofing had not been done properly which in turn, caused the bad leaking.
This repair turned out to be easy and inexpensive. After repairing the patch panel, we coated the entire roof with "Henry White Elastomeric Roof Coating". In Arizona, we get non-stop sun, so anything that can be done to reflect the heat off of the roof does wonders to lower electric cooling bills. The total roof repair came to $450.
Plumbing
One of the great things about manufactured homes is that they have a crawl space underneath which makes repairing any plumbing in the house very easy. The topside plumbing in the kitchen and bathrooms looked to be original and in very poor condition. Since we were going to replace everything in the kitchen and bathrooms, we decided to replace all of the supply side plumbing underneath.
Modern Pex piping with SharkBite connectors was a simple, inexpensive and effective fix. Running the new Pex pipes was very simple underneath the home and going up into the house in the original holes where the old plumbing had been removed.
The greatest obstacle we had in the plumbing was that the floor was rotted under each toilet, both bathtubs, and the hot water heater. New sub flooring was installed under all of these areas. Fortunately, fixing holes in the floor is a simple procedure in a manufactured home. In all, we spent about $1,000 to repair all of the plumbing, which included the cost of a new hot water heater.
Electrical
This home was 36 years old when we started this project. I had my electrician come in and check out the electrical system thoroughly before we started doing anything else. Often, over the years, people tend to add electrical items to the house and do odd things with the electrical panel. In this home, the electrical system had been pretty much untouched. There were a few back outlets, but juice was running properly and the panel was in good condition. After we completed the walls throughout the home, we replaced every switch and outlet in the home. This had a total cost of $350.
Windows
This is where things got to be a little more interesting. This house had several broken windows. At first I thought about just getting those broken windows fixed, but when I looked closely at the original windows, I realized how horribly cheap they were. Aluminum framed, single pane windows. None of them would slide properly in their tracks. It also appeared that none of them sealed properly as well.
Being naive, I didn't realize that mobile home supply stores, such as "Mobile Home Depot" carried all sorts of replacement windows in all types of grades. I found out later that manufactured homes all carry standard sized windows that were all available at a mobile home supply store.
I went into Lowes to look for replacements for those windows that were broken. It just so happened that up in the front of the store there were several carts of brand-new Pella, double-paned, low-E windows that somebody had ordered incorrectly for a house and had all been returned.
Lowes had these for sale on clearance. After sorting through all of the windows I purchased a replacement for every window in my mobile home. Since I was buying so many of the windows, I was able to make a bargain with the store manager. I purchased every window that i would need for a total price of $400. I was thrilled. I just purchased about $3,000 worth of windows for $400. What a bargain!
The purchase of the windows themselves was inexpensive, but, none of the windows fit in the openings of the existing windows! With later manufactured home remodel projects, I discovered how easy it was to replace a bad window with a new one of the same size. Instead, we had to cut out the proper size hole and reframe the walls for each of the new windows.
I had a handyman that I had used for years. He charged me $130 to install each new window. This included cutting, reframing and installing the new window. In retrospect, this was still a bargain, but, it was still costly. There was a total of 11 windows, so, including the cost of the windows, labor and framing materials, I was into these windows for just over $2,000.
Had I purchased good original fit dual-paned windows at Mobile Home Depot, I could have saved myself over $600.
Tub, Shower, and Toilets
The original units in the house were pretty gross and in need of total replacement. When we removed them, the sub-floor underneath was rotted out. It was the same under the toilets. We completely replaced the sub-floor in the bathrooms and installed stamped steel tubs with porcelain tile surrounds. We also installed new toilets in each bathroom. Total cost, $1,700.
Walls
The interior of this home had the vinyl covered paneling that is so common in manufactured homes from the past. My main contractor is very good at drywall work and he kept telling me that it wouldn't be very difficult to drywall and texture the entire interior of the home; walls and ceilings.
As far as aesthetics go, I knew he was right, but it was going to cost $4,500 to do this. In the end, I justified in my mind that this home would be so much better because of the drywalled interior with hand skip-trowel texturing. It was also a great solution to the bad ceiling in the bedroom that had the water damage.
Without doubt, when it was completed, the home felt like a stick-built home; and a nice one. Was it worth the added cost and time? No!
Doors
Both the front and rear entry door on this house was in poor condition. As far as the interior doors go, I've never been a fan of the cheap hollow-core doors hung on two hinges that most manufactured homes used back in the day.
Even though this home was a post 1976 HUD standard home with 2 x 4 exterior walls, etc., the interior walls were built with 2 x 3 studs. We purchased all of the doors, exterior and interior, as pre-hung units from Home Depot. We were going to give this house a touch of class!
Fitting the exterior doors was not an issue, but the pre-hung interior doors were in 4" casings and we had 3" walls. What put the extra inch to the interior side of the room where the doors were installed. For example, in the bedrooms, the extra inch of depth was on the bedroom side. We then fitted 1 x 2 trim around the doors to hide the extra depth. They looked really good.
The cost of the pre-hung interior doors was about $80 per unit and $65 for installation. The exterior doors were about $150 per unit also with $65 a piece for installation. We had 6 interior doors and 2 exterior doors for a total cost of $1,300.
Interior Trim
Most older manufactured homes have very inexpensive trim around the doors, as well as the tops and bottoms of the walls. In most cases this trim is stapled on and has plenty of gaps around it.
Since we had treated the interior of this home to stick-built home standards, we also trimmed out the interior with standard house baseboards and door trim. This was all caulked prior to painting to give them home a solid and finished look.
Interior Paint
Having had plenty of experience flipping stick-built homes, I had my favorite color schemes that I found success with on my regular house remodels. We used a white for ceilings, trim and doors and a light gray-beige for the walls. The two-tone paint treatment looked awesome! Total cost, $1,500.
Cabinets
I had been buying cabinets at a wholesale building materials supply store for a while. The cabinets were a good price and of high quality. We replaced all of the kitchen and the vanities in both bathrooms with matching cabinets. All told, we had about $2,300 into the cabinets after installation.
Flooring
At this stage, the home was really taking shape inside. We had the beautiful Pella windows, great drywall with a high-end texture and good looking 6-panel doors with a great looking trim as well as two-tone paint.
For the bathrooms, we put porcelain tile on the floor, laminate flooring throughout the kitchen, living room, and hallway. We purchased new bulk carpets for the bedrooms. Total cost into the flooring was about $2,500.
HVAC
One of the great things about working on older manufactured homes is that, for the most part, the HVAC vents are located underneath the home making the system easily accessible.
In this particular home, the vent system was still in place and connected to the old, original air handler system located in a closet inside the home. The external unit for the air conditioning was inoperable. Old broken units are very common and is often why you see window units hanging outside of various rooms.
Quite some time ago I met an HVAC installer who specialized in refurbished HVAC units. These units were often were repossessed for non-payment by the homeowners, or they were trade-in units on upgrades, but still very serviceable.
I find that if I can find a refurbished unit that is less than 7 years old I can usually save significant money over a new system, and yet have a good, efficient unit for the homes.
Most of the time, we remove the old air-handler inside the mobile home. We turn the location where it resided into a linen closet. After all, you can't have too much storage.
The HVAC units we get are generally all-in-one units, meaning the air handler is located in the same unit as the compressor and condenser. These are easily connected up to the original vent system located beneath the home. Depending on the size of the home I usually pay between $1,800 to $2,200 installed for the system.
Exterior Siding
The exterior of this home is aluminum siding. In this particular case, the siding had  damage and many dents in it all around the home. My first thought was to try and repair the dents (naive), and replace some of the most damaged panels.
It didn't take long before I realized that trying to fix it was an effort in futility. I hadn't planned on re-siding the home when we started, but, in order to make the outside match the beautiful new interior, I realized that re-siding would be necessary.
Now it was a process of figuring out the least expensive way to go. I thought of going with T-111 pressed board siding, but considering the weight we had already added to the exterior walls with the drywall inside, that wasn't really an option.
In the end, we decided to do a vinyl siding. This home had a ramshackle storage room tacked on the side and under the awning on the carport side of the home. We wrapped that room in the new siding as well as the rest of the exterior. When working with the storage room, we realized that the framing of it was awful. To make the room strong enough, we almost ended up reframing the entire thing. In retrospect, we should have just torn it down.
Mobile Home Depot carries all types of siding for manufactured homes. They also had plenty of choices as far as styles and colors are concerned. The siding re-siding, including materials and labor, along with the repair of the storage room ended up with a total bill of about $3,500.
Skirting
The original skirting was in poor condition and even missing in many places. The existing skirting was aluminum and even the good portions of it looked bad. Mobile Home Depot to the rescue. We went with a new vinyl skirting all around the home ad a total installed cost of about $900.
Lot Cleanup
The home now looked fantastic, but the small lot around it looked pretty bad. I got on Craigslist and found someone to come clean the lot up and haul off the debris for $300, which was about the same cost that I paid the first contractor to clean out the inside of the home.
To get a finished look without spending a lot more, we brought in landscaping granite a spread all around the lot. This had a total cost of $600.
Window Blinds
I contemplated leaving the windows without any coverings, but, in the end I thought it would look better to outfit the home with 2" faux wood blinds. The finished product looked great and the cost was just over $600.
Ready to Sell
This entire process took about 60 days to complete. I generally like to have a property turned round to sell in 30 days, but being new to doing manufactured homes, it took quite a bit longer.
Knowing from experience selling homes, professional pictures are worth their weight in gold when it comes to attracting buyers to the home. Most everyone finds properties these days on the web, and good pictures are the draw to get someone to come and see the home. Well, you would think that as a real estate professional I would practice what I preach, but I didn't in this case. I hauled out the iPhone and snapped pictures myself.
After Pictures
As with the before pictures on this property, I don't have all the pictures that were taken of the after shots. I am missing the pictures of the great new kitchen that we installed.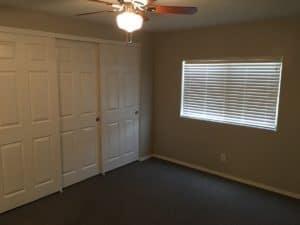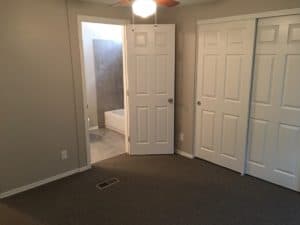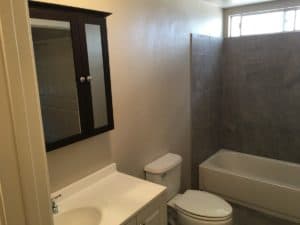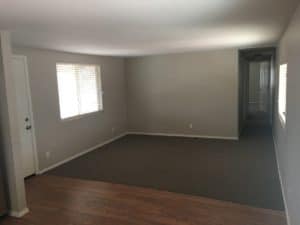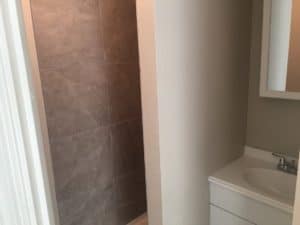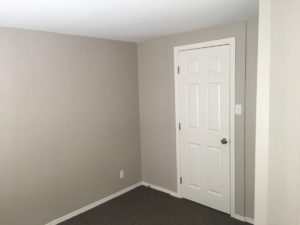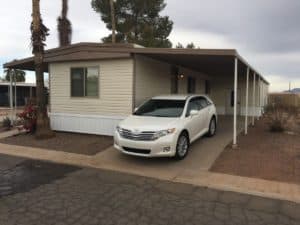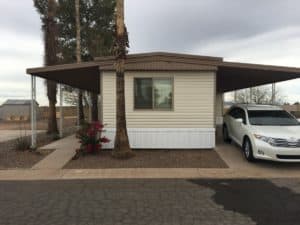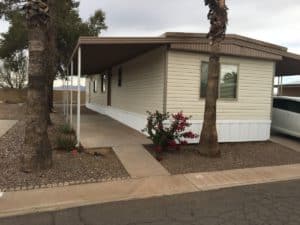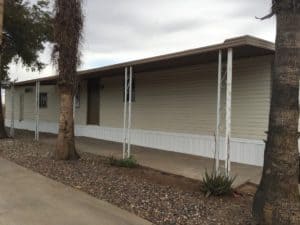 Cash or Carry?
When we started with the idea of investing in mobile homes, the idea was to carry notes on the homes for cash flow. However, the formula that we were supposed to use would have all our invested money back within 18 months. That was not going to be the case here. It would take much longer to get the invested capital back.
| | |
| --- | --- |
| Description | Amount Spent |
| Purchase | $1,000 |
| Initial clean out of the house | $300 |
| Roof Repair | $450 |
| Plumbing | $1,000 |
| Electrical | $350 |
| Windows | $2,100 |
| Tubs and Toilets | $1,700 |
| Drywall | $4,500 |
| Doors | $1,300 |
| Interior Trim | $750 |
| Interior Paint | $1,500 |
| Cabinets | $2,300 |
| Flooring | $2,500 |
| HVAC | $1,800 |
| Siding | $3,500 |
| Skirting | $900 |
| Lot Cleanup | $300 |
| Landscaping | $600 |
| Blinds | $600 |
| Light and Plumbing Fixtures | $1,300 |
| | |
| Total | $28,750 |
We prepared and posted ads on Craigslist, Offer Up and Zillow. Looking at the price some of the best homes that had sold for, we priced it at $31,000. We offered to carry the note with $5,000 down. Many calls came in. MANY! The home sold in a few days getting the down payment and carrying the $26,000 note receivable at 8% interest for 8 years. 
This wasn't a successful endeavor. We sold for $31,000 and had $28,750 into the property for a total profit of $2,250. What makes it even worse, is that we would have to wait 8 years to get all of our money back; most of it our capital.
Our formula, if we are going to carry paper on the sale of the house is to be able to recoup all of our invested capital within 18 months of the sale. This would come from any down payment and the total payments from the note in the first 18 months. We certainly blew that one out of the water.
What We Did Right
We took action! It is easy to have dreams and to make plans, but it is another entirely to actually take action and execute them. We scouted around, we found a house, we remodeled it, and we sold it. Even though it didn't exactly turn out the way we had planned, we did it, and we learned a lot.
What We Did Wrong
We didn't execute the plan the way it was designed! Going into this deal, we had a formula worked out that had worked wonders with our mentor, John Fedro. He has been doing this for years and has made a very successful formula for others to follow.
I let my experiences from flipping stick built homes affect the decisions I made while doing my first mobile home flip. We weren't very far into the project when I knew we wouldn't meet the planned formula. I fixed this house up the way I would want it if I was living in it myself. The thing is, I wasn't going to live in it and I need to let go of my desire to make things better than they need to be. I should have kept front and center what we could do in order to sell the house for a profit, and not lose sight of that.
Related Questions
Is it worth flipping mobile homes?
Now that we have a number of deals under our belt, I would say an emphatic absolutely! Slowly we learned our lessons. I wish it only took this first house to learn what we needed to, but it did take us a few more. In the end, mobile homes have been giving us a nice paycheck at the end of the day; when we follow our rules!