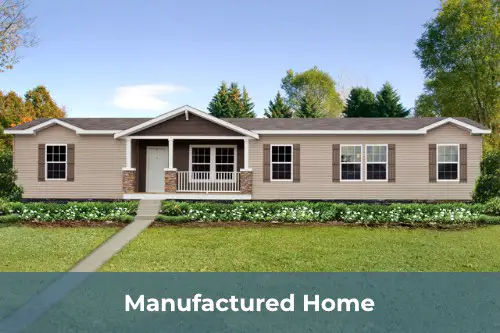 We've all seen small mobile homes as well as some that appear quite large. But, what are the regulations on what sizes can actually be?
The Short Answer
Height – 13'6″

Length – 80′

Width – 18′
However, what can be transported on the highways varies from state to state. Also, different combinations of single, double or triple wides will affect how much house you might put together.
In this post, we're going to look at size vs. price vs. amenities.
What About Manufactured Home Configurations?
This is a question often answered. What can be built as a manufactured home (the maximum height, width, and length) or more a factor of what can be safely built and legally transported to the home site. Although there are always exceptions, most manufactured home configurations available are;
Single Wide

Double Wide

Triple Wide
That being said, there are manufactured home dealers who will also build a carport or even a garage structure on to a home. Generally, the more units, the higher the cost. So, a single wide home is typically less expensive than a double wide, and that is less expensive than a triple. However, that is just a rule of thumb.
Some of the newest triple wide offerings look very similar to a site-built home, but they can also be quite expensive.
Single Wide Homes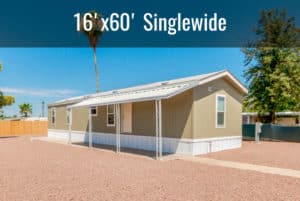 The individual section size for a manufactured home will ultimately be regulated by your state's Department of Transportation. However, for shipping purposes, single wides can be found in the following dimensions:
Width 14' to 18'
Length 66' to 80'
Many older mobile home came in widths of 8', 10' and 12' in addition to the 14', 16' and 18' widths available today. If your site allowed an 18' x 80' home, it would be possible to get a 1,440sf single wide home. Personally, I have never seen one of these. In manufactured home parks, it is common to see a 16 x 64 which equates to 1,024sf.
Today, most single wide homes you'll find will be from 750sf to about 1,050sf in size. It is common to find these in 2 and 3 bedrooms with 2 bathrooms.
When single wide homes are at least 16' side, they have enough width to prevent the "long hallway" syndrome that is common in many narrow homes. Because a single wide is pretty limited as to shape, it is usually a rectangle. Many newer homes have a front porch included with the entrance to the home from the porch. Of course, a porch is an option which adds cost.
Double Wide Homes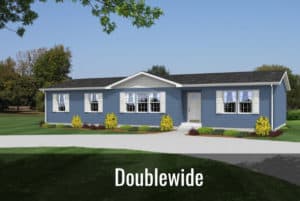 The biggest difference between a single wide and a double wide home is size. The smaller double wides usually start at around 1,067sf and can go up to a maximum of about 2,300sf.
Double wides start at 20 feet and go up to 36 feet. Most common sizes are 24, 28 and 32 feet wide. Double wides are 2 separate units that travel to the homesite on their own chassis and wheels. At the home site, they are setup up next to each other and attached together to give the feeling of one continuous home.
As far as home livability goes, the real benefit to a double wide home is that it is far wider than a single wide. The home will be less of a narrow rectangle and could actually be a square in the cases of smaller double wides. This allows the manufactured home designers to have far more latitude in the floor plan. Newer double wide homes often have the coveted "open concept" floor plan that so many home buyers look for.
Triple Wide Homes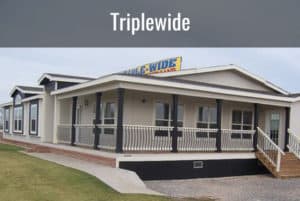 These homes consist of 3 separate units which travel to the homesite on their own chassis and wheels. Once at the home site they are set up and joined together to form a home. Sometimes a triple-wide is called a multi-wide home.
The advantage of a triple wide manufactured home is the added size and floor-plan configuration that is possible. Once set up, a triple-wide manufactured home can often be hard to distinguish from a site-built home.
Theoretically, if all three units measured 18' wide by 80' long the triple-wide home would be up to 4,320sf. However, this is not the norm for a triple-wide. Usually, multi-wides are used to accommodate variations in appearance and floor plan possibilities to look more like a site-built home.
Manufactured (Mobile) Home Ceiling Height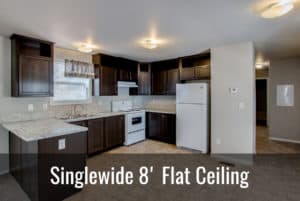 Most people would like vaulted or high ceilings in their living space. It makes a home feel larger than it really is. New site-built homes today usually come with 9 to 10 foot flat ceilings or vaults to 14 feet. Many custom homes sport 12' to 20' ceilings.
The height of a manufactured home ceiling is limited to federal, state and local transportation limits. Since manufactured homes have to be transported from the factory to the living site, the maximum transportable height cannot exceed 13 feet 6 inches. This is not just the height of the home, but from the ground to the top of the highest point in the roof.
Older (Pre-HUD) Manufactured Home Ceiling Heights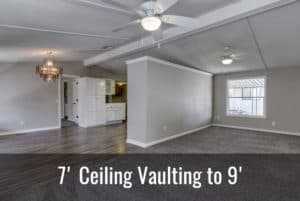 Homes built prior to the change in HUD standards, (June 15, 1976, often had ceiling heights of 7 1/2 feet although much older homes were usually 7'. In the 1970s the "luxury" models had ceiling heights of 8' which matched most site-built homes of the time.
Higher Ceilings In Newer Manufactured Homes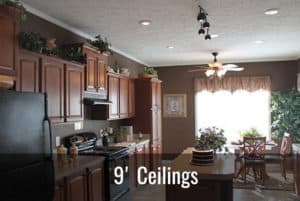 Starting around the 1980s, many manufactured homes were built with a type of "vaulted" ceiling. These usually started at 7' on the outer walls and increased to about 9' in the middle.
Eventually, into the 2000s, flat ceiling heights of 9' are becoming more common. Remember, that the total transportable height of the home can only be 13'6". The get 9' flat interior ceiling, 13'6" less 9' leaves only 4'6" for the attic and roof height combined with the floor height to the ground.
Unless federal transportation regulations change (doubtful) 9' interior ceilings are about the interior ceiling limit for a typical manufactured home.
Does home size affect pricing?
Typically, a single wide home will cost less than a double wide home when factoring in building and transportation costs. But, some cost-efficient double wide homes could be sold for less than an upgraded single wide home.
This is an interesting question and can be deceiving at first glance. Most people would assume the larger a structure, the more expensive the cost. Most of the time they would be right.
When manufacturing the home, each transportable unit must be built upon its own chassis and have its own wheels. It must also be transported to the site, then set up with however many units there are and be attached together.
All of this adds more cost which will generally make a double or triple cost more than a single. However, within each classification, single-wide, double-wide and triple-wide the varying styles and options selected can play almost as large a role in the price as the size.
Let's say that the base price for a 1,456sf (28×52) double-wide mobile home is $96,000. A buyer could purchase the home as a base model and pay that amount. However, it is common to option the home out with additional amenities such as 9' ceilings, upgraded kitchens, bathrooms, and flooring. This can run the cost of a home up far past the base cost.
Conclusion
Newer mobile homes usually come in the following configurations:
Singlewide

Doublewide

Multi-wide

14', 16' or 18' in width

32' to 80' in length

Total Height of transportable home from the ground to top of the roof can be 13' 6"

Ceilings often vault from 7' up to a peak of 9"

8' flat ceilings

9' flat ceilings
Related Questions
Common Double Wide Mobile Home Sizes – Double wide mobile homes come in a variety of sizes to fit differently shaped lots. Double wide means that the home comes in two units that are joined on the property. The most common total double-wide widths from most manufacturers are 20′, 24′, 28′ and 32′ foot widths. The most common lengths fall from 42 to 60 feet. This means on the small side a home might be 840sf while the larger homes might be 1,920sf. There are homes that are significantly larger available.
What Is The Largest Single Wide Mobile Home? – For most manufacturers, the largest single-wide home available is 18′ feet wide by 90′ feet long. This would make the home 1,620sf. However, many states allow only a 16′ foot wide unit to be transported on the highway, so 16′ foot wide homes are far more common. Also, with lot setbacks, many lots cannot accommodate a 90′ foot long home.