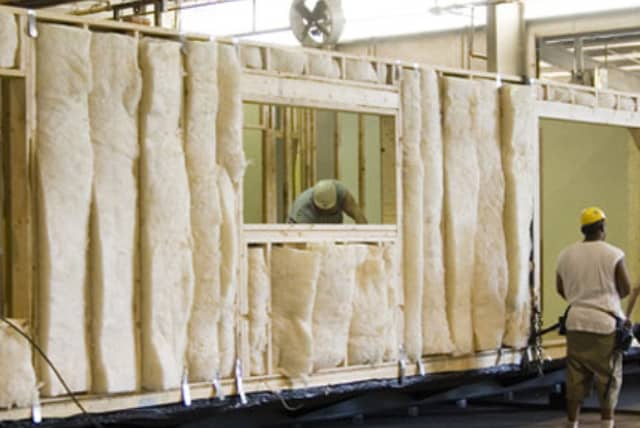 Many people have the perceived idea that manufactured homes are of a lesser quality than a site-built home.
The Short Answer
Manufactured homes are POSSIBLY lower quality than traditional site-built homes in some cases! But, there is so much more that determines quality that it is worthwhile to explore the answer in more depth. If you are thinking of buying a manufactured home, or if you're just curious, stick with me for a bit and let's discover the "it depends" answer that is the case.
The first thing we need to do is to define what is a site-built home and what is a manufactured home.
The Early Days of Manufactured Homes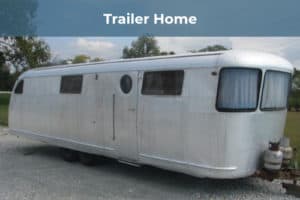 In the early days, 1930s through the 1950s, these dwellings on wheels were known mostly as trailers. They were lightweight, narrow and short so that they could be towed from location to location. After WWII, the size of these homes started to grow. They went from 8' wide to 10' and up to 50' or more in length.
However, the construction methods tended to be the same but the name changed from trailer to mobile home as they grew in size. Generally the outer walls were made of 2×3 studs and the interior walls were 2×2. They were usually built with inexpensive 3/16" paneling on the walls and ceilings. Upgrades sometimes included acoustical paneled ceilings.
These early construction methods came to a stop in 1976. From June 15, 1976 and later, homes had to meet a much higher standard administered by HUD. Control of the industry was taken from the department of motor vehicles and transferred The Housing of Urban Development. These new HUD regulations affected all aspects of construction.
What Is A Manufactured Home?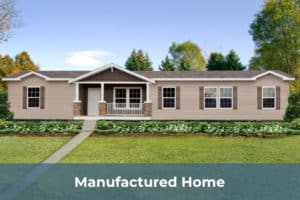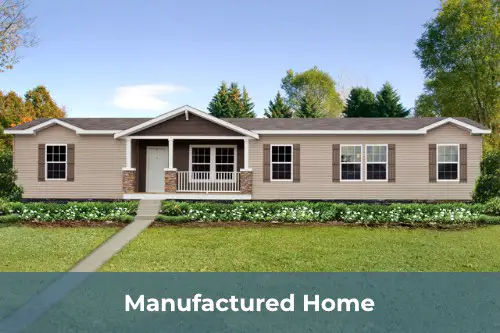 Back in the day, manufactured homes were referred to as trailers. Starting in the 1950s through the 1970s they were often referred to as "mobile homes". Habits often die a slow death and many people continue to refer to modern manufactured homes as mobile homes.
A modern manufactured home is a far cry from the trailers and mobile homes of years gone by. Let's look at some manufactured home facts:
Factory Built

– These homes are built in a factory with an exacting and controlled environment where the build quality is carefully monitored throughout the process.

Built to HUD Standard – All manufactured homes built after June 15, 1976 have to conform to the strict HUD (Housing of Urban Development) standards. There is a big difference here and we'll look more closely at it in a little bit. All manufactured homes are built to this HUD standard rather than to the local building codes of the areas of their destinations.
Steel Chassis – Manufactured homes are built atop a heavy steel chassis which forms the foundation for the structure. These are similar to the frames found beneath large trucks. This steel chassis is not removable and stays with the home when it is set up on its permanent site.
Transported To Site On Wheels – Manufactured homes have axles and wheels attached to their steel frames in order to transport them to their permanent site. The home may be transferred in 1, 2 or more sections.
Units Are Joined At The Final Destination – If the home is more than a single unit, the various parts are placed into position and joined together at the destination site.
Foundations – Often the various units are not placed on a permanent foundation. They are often placed upon semi-permanent blocks or cement piers. They are required to be tied down to the ground to give the homes the required foundational strength against wind, storms and other natural phenomena. (It is often because of not being on permanent foundations that can make them more difficult at times to finance.)
Site Inspections – Professional inspectors look at all aspects of the installation on the site. They look at utility lines and hookups, tie-downs and set backs to make sure that everything is in compliance with local laws. These inspectors do not look at the actual construction of the manufactured home itself, as the home had to pass construction standards at the factory.
Generally Less Expensive – Manufactured homes are generally less expensive than site-built homes. Part of this has to do with the economic efficiencies of being built in a factory. We'll look more closely at this later.
May Decrease In Value – Much like an automobile, the actual manufactured home structure itself will most likely decrease over time. There are lots of variables here that we'll look into in a bit, but this topic will be discussed at length in another post.
What Is A Site Built Home?
Built Entirely At The Site

– Hence, site-built home. All construction materials and labor arrive at the site and the home is constructed on location.

Construction Materials – There are too many materials to list, from brick, block, pre-formed concrete to all sorts of other construction types. Still, most site-built homes today are built from 2×4 or 2×6 wood-frame construction. These use wood trusses for the roof structure and either a crawl space or cement slab foundation.
Construction Standards – Unlike manufactured homes, site-built homes are subject to state, regional or local building codes and standards. These may vary greatly from city to city within the same county and state.
Stick-Built Homes – Most site-built homes are known as stick-built homes since the majority are wood framed structures. These homes make up the vast majority of all new homes built today.
Appreciation – If a site-built home is properly built, well maintained and cared for, its value will generally rise over time. Much of this has to do with the desirability

 

and area of the property.
Are There Benefits To A Factory Built Home?
Certainly, there are some benefits to anything produced in a controlled environment such as a factory. For manufactured homes these include:
Design and Construction – Every aspect of the design and construction process is controlled and supervised.
Weather – This often affects the quality of site-built homes. It has no effect on manufactured homes built indoors.
Labor – Every craftsman and assembly worker is part of a team, is professionally supervised, and work together to turn out an efficient, quality product.
Materials – Waste is cut to a bare minimum. Theft and water damage are basically non-existent.
Inventories – Inventories are tightly controlled and monitored. Waste is cut to a bare minimum. Bulk purchasing also allows materials to be purchased at lower price points. This includes everything from frames and lumber to windows and appliances.
Inspections – Every step of the process during construction is closely supervised and inspected. Any necessary corrections are made on the spot.
You Get What You Choose To Pay For
Many people do not realize that that manufactured homes have many different tiers of price and quality. Actually, this statement is true whether we are talking about manufactured or site-built homes. As discussed above, all manufactured homes must be built to HUD standards and site-built homes to state and local building codes.
Remember, those are minimum requirements and both types of homes can be highly upgraded over minimum. This is true of the actual structure itself as well as the options that go into the finished home.
"You get what you pay for" is a common phrase that applies to pretty much any product or service that you can buy. Furniture is one of the easiest examples of this. When new, there seems to be little difference between a $399 sofa and one costing $2,500.
However, the beauty of the $399 example is often only skin deep. The material quality, construction methods for the frame, the springs, and all aspects play a large role in how long each sofa will last and how long it will look great!
This is also true whether it is a manufactured home or a site-built home. As a consumer, you can upgrade everything from minimum standards. Some of these things are construction related, such as stapling vs. nailing. Cheaper tiered homes then to be more stapled instead of nailed. Windows, doors, and siding materials can all be upgraded. Many of the upgrades are cosmetic and don't affect the structure or its durability.
In both cases, a highly optioned home, be it manufactured or site-built, can be a beautiful, well-built and comfortable place to live. Of course, the more options, the higher the cost.
What Is The HUD Building Standard For Manufactured Homes?
The HUD (Housing of Urban Development) code regulates all aspects of the construction for manufactured housing. This includes the design and overall quality as well as the strength and durability of the structure. It regulates things such as energy efficiency, fire resistance, heating and plumbing, electrical, and thermal efficiencies. There are mandatory requirements that must be met and HUD ensures compliance with these standards through an inspection system that takes place as the structure goes through construction at the factory.
There are also three different wind zones that HUD requires manufactured homes to be built to meet one of the three depending upon where the home will be placed. For a better understanding of these zones see this map link.
Conclusion
We have explored some of the principal aspects of the construction differences between site-built homes and manufactured homes.
Our initial question, "Are manufactured homes of a lower quality than traditional site-built homes?" Initially we answered "possibly". There are so many variables. Each type of home is built to an exacting standard, whether HUD or local building codes. At the minimum level, both are close to the same quality. However, most site-built homes are built to standards far above minimum.
Often, purchasers of a manufactured home are looking for the lowest cost possible, so many of these homes are built to the minimum HUD standard, which is still very good, just not as good as it might be if the buyer chose lots of upgrades.
A manufactured home can initially cost as much as half to a third of the cost of a site-built home. Much of this is because the land is not included with the manufactured home. Most manufactured homes tend to decrease in value over time. This is typically because of age and functional obsolescence.  The land they are on will keep its value and also increase over time.
In either case, site-built or manufactured, the long-term value will play heavily into how the home is maintained and updated over time.
It's also important to remember that the resale market for manufactured homes is far smaller than for site-built homes.