If you're planning on buying or selling a mobile (manufactured) home, then a home inspection is invaluable in making sure the rights decisions are being made and that the transaction can go smoothly and not fall apart. Certainly, buyers may get more benefits, but sellers can certainly benefit as well.
Buying a mobile home can be a somewhat tedious process. This often is the case because there may not be any banks, dealers or real estate people involved looking out for the buyer. 
The Short Answer
Manufactured homes are a very different animal from site-built homes. They have their own risks that need to be looked at differently from other homes. A mobile home inspection checklist will look very different as a result. Factory-built homes are manufactured from different materials and build methods. They are also more vulnerable to damage. 
This can make the inspection process more complicated. There are several key systems in a mobile home that are not accessible or visible during the inspection which can make the inspection process more difficult. Because manufactured homes are more susceptible to deterioration and damage, a properly done mobile home inspection is imperative when making a decision to buy.
Initial Inspection Starts With You!
Since manufactured homes are classified as a motor vehicle, they have a title just like a car. If the mobile home is a multi-section unit, then there will be a separate title for each section.
There has been more than one occasion where I've discovered that the vehicle identification number (VIN) on the title does not match the actual VIN on the house itself. This causes problems with the claim of ownership.
When considering the purchase of a mobile home, verify that the VIN on the house matches the on the title.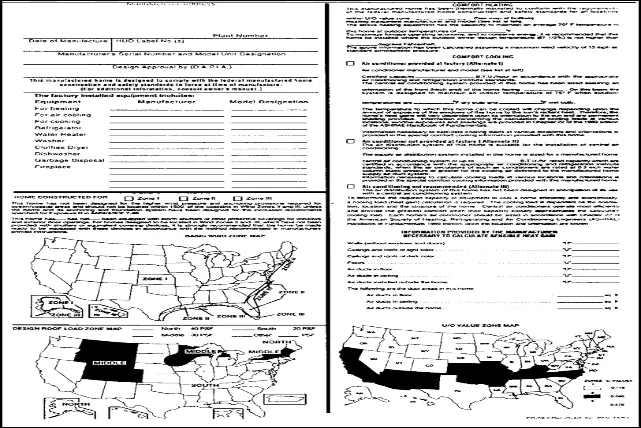 For further clarification see our post "Where Is The VIN Number For My Mobile Home?"
So, Why Do You Need An Inspection?
Simply put, manufactured homes are a completely different animal than a site-built home. They are constructed differently and unique situations can occur with a mobile home when compared with a site-built home. There are several issues that must be dealt with concerning manufactured homes that are not even a consideration with a site-built home.
If you're going to invest in a manufactured home, either to live in or investment purposes, you will want to protect yourself by having it professionally inspected. The old adage "you don't know what you don't know" certainly comes true when considering the purchase of manufactured homes.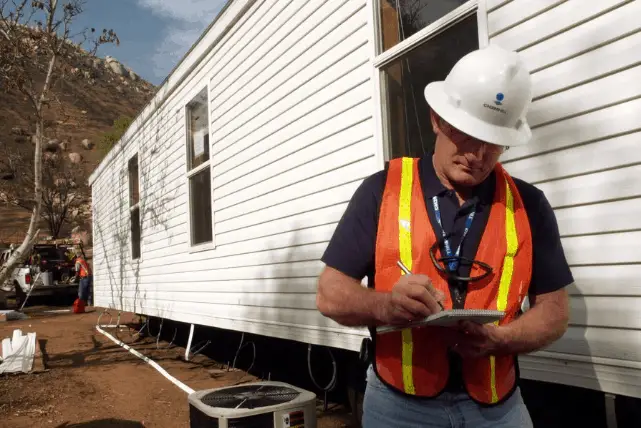 Home inspections not only protect buyers and sellers, but also all parties who might have a stake in the sale of the home. Banks, real estate agents, title companies all have vested interests in making sure the sale goes through and is done properly. Home inspections alert all parties to issues with the home that not only might prevent the sale from completion, but also bring potential liability down the road.
If You're A Buyer
Knowing the condition of the home prior to moving in can:
Give you peace of mind knowing that all the systems in the home are functioning as intended.
Alert you to systems that need repair and give you the power to negotiate a better price for the home because of the defects in the home.
Give you the knowledge that the home may need more work than you're willing to take on and walk away from a bad deal.
If Your A Seller
Homes that are in great condition will sell for the most money. Most every homebuyer today will have a professional inspection done on a home they are thinking of buying. When this is done, the problems with the home will come to the surface. By being proactive, a seller can take care of the problems prior to putting the home on the market. When the home is in top condition, the price will not be negotiated downward because of problems discovered in the home.
Taking care of repair items before a buyer enters the picture can help the home sell faster and possibly for a higher price!
Mobile Homes Have A Higher Risk Of Damage
Although a manufactured home can look very similar to a site-built home, there are significant differences. 
Foundations
While site-built homes are built on permanent foundations, the foundation of a manufactured home is somewhat less stable. Manufactured homes are built on a steel chassis. The steel chassis generally sits on piers that generally sit on a concrete or plastic pad which itself is on the ground. There are lots of different types of piers and foundation systems under the piers.
There are often wooden shims between the steel chassis of the home and the piers. These are often used to level the home. Over time, they can move or fall out of place.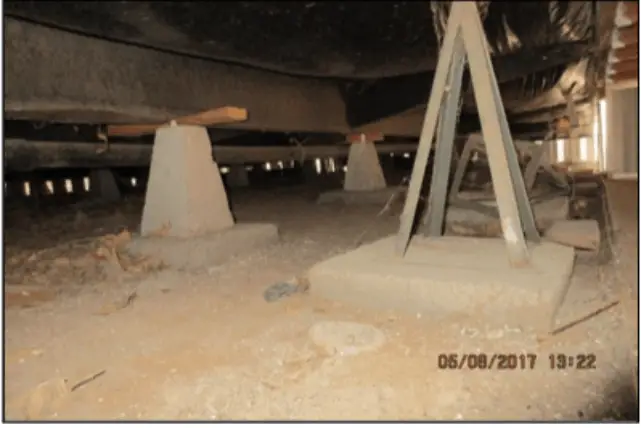 Even manufactured homes that appear to have foundations of stone or brick underneath them, these are typically just skirting and have nothing to do with the foundation of the home.
During strong winds and storms, manufactured homes are susceptible to significant damage if they aren't anchored down properly to the ground. These homes require special tie-down systems that may be cable or solid steel bars to anchor the home to the ground. Over time, some of these may snap or loosen.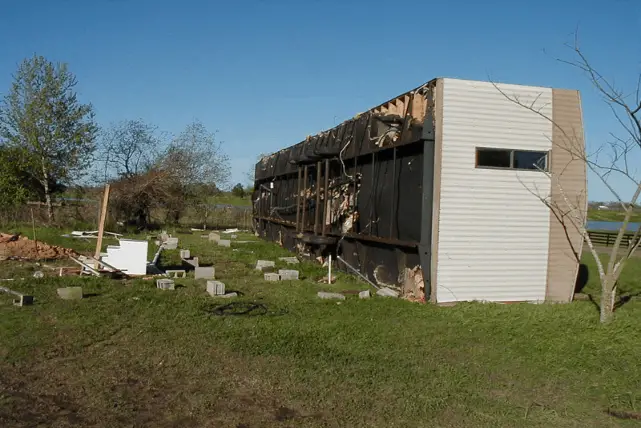 Multi-Section Home Seams
Many manufactured homes are made up of two or more sections, these sections require the sections of the home to be joined together and sealed. When the homes flex and settle, these seams can often be broken and allow water damage into the roof and walls of the home.
General Home Inspection Checklist For Any Type Of Home
Structural components
Exteriors
Interiors
Roof systems
Plumbing systems
Electrical systems
HVAC
Insulation
Fireplaces and similar appliances
For each category of the inspection, there are many items that get inspected. Some of those areas include:
Structural: foundation, walls, roof, floor structure, etc.
Interiors: drywall, flooring, ceilings, stairs, railings, cabinets, doors and windows, etc.
Electrical: breaker box, grounding, service equipment, main disconnects or shutoffs, etc.
Exteriors: Siding or wall covering, doors, flashing and trim, vegetation (if it affects the home), soil grading, drainage, etc.
What Is A Manufactured Home Inspection?
A manufactured home inspection, like any certified home inspection, will look at the home from the ground up to the roof; including all of the system in between. All of the areas listed above in the section on site-built home inspections are done as well as many areas exclusive to the unique features of mobile homes.
Every state has rigorous licensing procedures that home inspectors must go through in order to be certified. This helps an inspector pinpoint areas needing attention that may affect the safety or value of the home. In addition the inspector can help you determine if a particular repair even makes financial sense.
When doing an inspection on a manufactured home though, you want to make sure that your home inspector has significant experience with manufactured housing.
What Is Different For A Manufactured Home Inspection?
As mentioned previously, manufactured homes are built differently. They tend to be more vulnerable to risk and damage. There are additional areas of concern to address while inspecting a manufactured home.
With a mobile home, there are certain areas of concern that the owner of a site-built home simply wouldn't know about. For example, if the perimeter walls of the home stick out past the I-beams of the home (they almost always do) then the outrigger beams that support the extended wall need to be in strong and stable condition. If they are not, it will allow the perimeter walls to sag and the outer walls may separate from the roof of the home. This is a situation known as "crowning".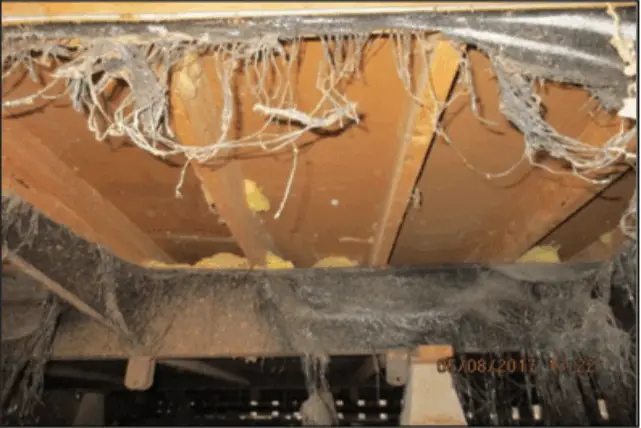 The International Association Of Certified Home Inspectors (NACHI) in a forum on the NACHI site, a manufactured home inspector shared a list of the ten most important things in a manufactured home inspection:
Proper marriage line alignment (Multi-section homes)
Overextended Jack heads
Wood pads with cracks
Squeaking floors, warped or bowing floors that could mean water damage
Toilets with bad wax rings, loose flanges, or a wobble
A moisture barrier, belly wrap is present and healthy with no tears
Damage around water heaters and furnaces
Pier Spacing
Healthy outrigger with no visible sagging
Sagging ceiling panels (caused by broken 1″x2″ or 2″x2″ rafters)
Some Areas Of Manufactured Home Are Difficult To Access
Space and access to certain areas of the mobile home can be limited. The crawl space underneath the home can be especially troublesome if the home is close to the ground. Also, some manufactured homes are "ground-set" meaning that there was a hole dug and the home sits down inside the hole so that it appears to be level with the ground as with a site-built home.
Water under the home can be a particular problem. Also, ductwork may not be visible because of the belly wrap and insulation. The belly wrap itself should be thoroughly inspected to make sure there are not any holes or rips. Also, if there is any water inside the belly wrap, this could be a sign of a leak above.
Often there is no attic access to a mobile home. The space above the ceiling is fill with insulation and then the roof above that.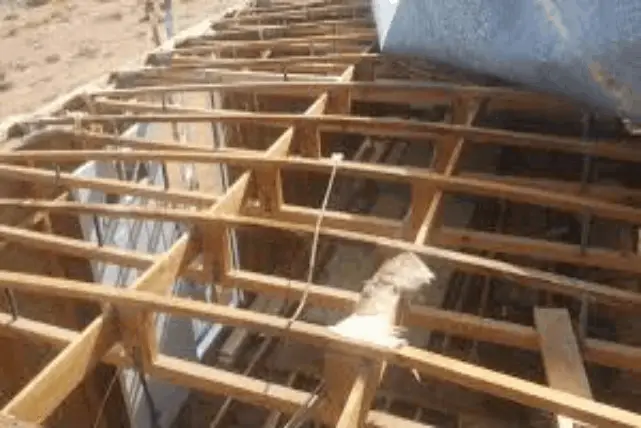 When performing a home inspection on a manufactured home, it is important for the inspector to understand the differences and limitations of the manufactured home and access.
Mobile Home Additions And Inspections
Mobile (Manufactured) homes are often smaller than a typical site-built home. This is especially true for single-wide models. Over the years, owners of these small homes often build additions onto the home to increase living space.
Mobile home additions require their own independent foundation, floor and roof structures, and should not be attached directly to the manufactured home itself. Manufactured homes are designed to flex, whether or not an owner ever feels it.
Over time, foundational piers underneath the manufactured home may settle or sink. Strong winds may exert tremendous force on the outside of the home. When these things happen, the home will flex. If there is an addition built next to the home, this can often cause the seal between the manufactured home and the addition to break allowing leaks and damage.
Mobile home additions often tend to be a do-it-yourself type of project. Often by people who have no idea how additions to these homes have their own special rules and guidelines to be done properly. Because of this, an addition to a manufactured home that is done the wrong way can add significant stress on the home itself causing severe damage over time.
Mobile Home Addition Checklist Items:
Independent structural support for additions
Separations between additions and the mobile or manufactured home
Interior and attic leaks along home addition seams
Home Inspection Report
At the conclusion of the home inspection, the buyer or seller, whichever ordered the inspection will do a "wrap-up" meeting with the home inspector. The inspector will take the time to walk you through the home and deliver the findings from the inspection.
In addition, the inspector will generate a report that can be from 10 more than 30 pages in length that includes several pictures and suggestions. The report will detail all of the inspected systems and the findings of the inspector. Recommendations for further action will also be listed.
With the home inspection report, a buyer can then decide how they want to move forward with the negotiation and purchase of the home. A seller can begin repairs on the areas needed prior to actually putting the home on the market for sale.
Finding A Home Inspector
Currently, 39 states regulate the home inspection industry. They have rigorous licensing requirements for home inspectors to pass before receiving a license to perform inspections. In an unregulated state, pretty much anyone could call themselves an inspector and not really have any consequences for sub-par work. Check your state to find out if home inspectors are required to be licensed. You will want to find out the rules for home inspectors in your state to protect yourself.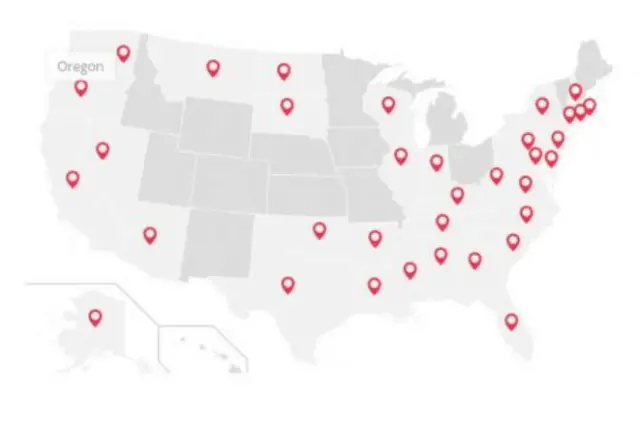 There are two sources for information regarding the home inspection industry:
ASHI – (American Society Of Home Inspectors)
InterNACHI – (International Association Of Certified Home Inspectors)
ASHI claims to be the leading non-profit professional association for independent home inspectors. 
InterNACHI is the world's largest association of professional home and commercial property inspectors. As part of their membership requirements, InterNACHI inspectors have to complete dozens of inspection-related courses and pass hundreds of quizzes and exams. 
You want an experienced, licensed, and knowledgeable inspector. While passing an exam is important, actual hands-on experience with manufactured homes is even more important. Also, the inspectors should respect manufactured homes.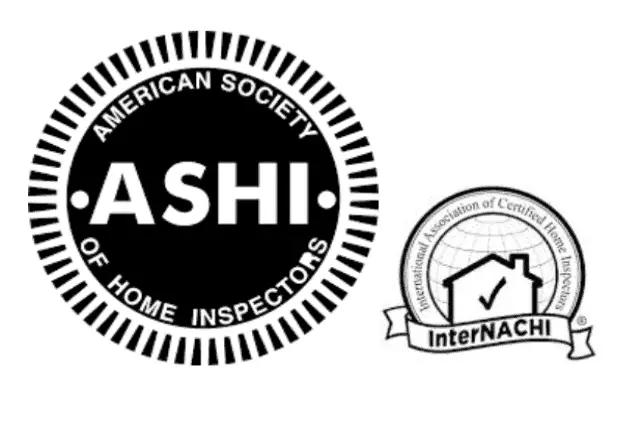 Non-Regulated States
For states without home inspection regulations, you will want to make sure your home inspector is a member of either or both of these to associations and follow the guidelines.
Home Inspector Need To Be Familiar With Manufactured Homes
Even when a home inspector is in a regulated state, and might be a member of both ASHI and InterNACHI, that doesn't necessarily mean that they have experience with the differences in manufactured homes.
The following is an excerpt from a forum written by a home inspector about to do his first manufactured home inspections:
"I've got my first manufactured home inspection scheduled in a couple of days…actually it's two of them, next to one another on separately deeded parcels of land. One is a double wide built in 1996 and the other a single wide built in 1990. Both are installed on permanent foundations, with what I'm told are new heat pumps and electrical service. I've seen a few photos and the houses looks pretty nice and well cared for.
So what differences do I need to be aware of for these homes?
What I can think of so far…
1) How are these normally attached to the foundation
2) Are requirements for placement of hot water heaters the same for site built homes? 
3) Allowable electrical panel locations?
What else?
Thanks"
While this gentleman may be an excellent home inspector, he is certainly not familiar with the differences in manufactured housing. In the same forum, another home inspector responded to his post:
"If they are truly manufactured homes they will be on block piers and the brick foundation will not be structural. Some of the codes require the block piers to be mortared together or covered in Shurwall and some codes allow them to be dry stacked. It depends on where you are.
The attic will not be accessible and the floor insulation, ductwork, wiring, and plumbing will not be visible due to the cover on the bottom of the chassis.
Be sure and find the manufactures label and make sure the home was inspected by an agency that is licensed to inspect in your state. A home that is made in NC may not be able to be installed in SC if the inspection agency is not licensed in SC.
Example: I worked for a company that bought 35 double wides that were made in GA. The company was not using an inspection agency that was approved by NC. In the end we had to take down the paneling and remove the ceiling tiles so they could be inspected by the local inspectors just like a new construction would be.
That is a start….hope it helps… "
Same forum, yet another response to the first post by the inspector unfamiliar with manufactured houses:
"Things to look for or to be aware of:
Polybutylene water supply pipes, if you find them advise the client on the problems and concern related to them. Fewer problems were found with copper crimp ring connections. 
Commonly exposed Romex is used and must be allowed? for water heater power supply. 
If it has concrete block piers check wood shims to make sure they are tight and secure. I commonly find them to be loose in areas. 
Be sure not to call out the loose wiring from transportation lighting that is usually found on crawlspace ground.
Make sure plumbing vents terminate at least six inches above roof surface. Commonly they are to short. 
If it's a double-wide make sure the center of the floor is even. Commonly there is a slight ridge or bump in the center of the floor from section(s) settling.
Most of the stock heating systems are cheaper units. I commonly find AC condensation drains routed to drain into crawlspace. Also water heater TPR drains routed to crawlspace.
Commonly I find damaged ductwork or low air flow at register vent(s).
Be sure to check for sloping floors.
Commonly I find that the perimeter block foundations are more of a permanent skirting than a structural foundation. The steel frame and support piers are the primary support.
Be sure to determine if "tie-downs" AKA "hurricane strapping" is installed in crawlspace. These properly secure the metal frame to the ground. 
I'm no mobile home expert, but I hope this helps."
This is great information these other two home inspectors have shared with the first. The key here is knowledge of what to look for while doing an inspection. As we've discussed, manufactured homes are a different animal than a site-built home. As a result, they must be inspected for the uniqueness they present.
So What Does A Manufactured Home Inspection Cost?
HomeAdvisor.com estimate that the range of home inspection costs in the U.S. ranges from $267 to $371. This completely falls in line with what home inspections cost in our area here in Arizona.
Home inspections often have a base cost of about $300. From there, depending on the size of the home and what needs to be inspected, they can increase. For example, in my area, a 3,000sf home with a pool may cost about $400 for an inspection. Then termite inspection may cost an additional $50 to that. Check the prices of a few reputable inspectors in your area before hiring one. If home inspection is far outside the normal service area, or if there are outbuildings such as barns that need to be inspected, the price can continue to move northward.
Related Questions
"What is the difference in construction between manufactured homes and site-site-built homes?"
When it comes to making a decision on the type of home you'd like to live in, there are several concerns most people have. The cost of the home is a major factor, but, beyond cost, the quality of what you get for your money is also a major concern. Manufactured homes generally cost less than a site-built home, but are they built as well? Also, see our blogpost on "Are Manufactured Homes Of A Lower Quality Than Traditional Site-Built Homes?".
The biggest difference between a manufactured home and a site-built home is that the manufactured home is built in a factory while the stick-built home is built onsite in the neighborhood. The materials used to build either tend to be the same, but the methods used to build them differ significantly. Let's take a more in-depth look!
"What are the 12 most common problems with manufactured homes?"
Older manufactured homes can be a great investment or a very reasonably priced place to make a home. If taken care of and maintained well, these homes can appreciate in value over time. Like any site-built home, a manufactured home can and will deteriorate over time if left to the elements or faulty maintenance.
The most common problems we find with mobile homes can be summed up as:
Foundations – Piers sinking, tilting and pulling away from the mobile home frame. Tie-down straps also becoming loose.
Doors and Windows Out Of Alignment – When foundation settling occurs, it is common for mobile home doors and windows to get out of alignment where they will not close or latch properly.
Roof – Roofs often develop leaks. This is especially true of older mobile homes that have metal rooftops. 
Leaks – Mobile homes are especially susceptible to water damage from leaks. Leaks can often occur around the perimeter of the roof, windows, and plumbing.  This is especially true around sinks, toilets and tub showers. Subfloor damage can and often occurs.
Ceilings – Mobile homes with acoustical panels instead of drywall can be especially problematic if there have been leaks. It is often extremely difficult to find matching acoustical panels. Installing them can also be problematic.
Plumbing – Many older homes used polybutylene pipes which have been notorious for degrading from the inside out, and then bursting.
Wiring – Wiring can be problematic if the home has had owner added additions and features where the wiring has been tapped into the original electrical panel.
Homeowner Built Additions – Very common for a DIY type of owner to have built on a room, porch or shed.  If not built properly, these can cause damage to the homes' roof, foundation, walls, and electrical systems.
HVAC – Over time, previous owners often ad window a/c units because the original HVAC system was not cooling and heating properly. Sorting out the original system can be expensive, but is not difficult to tackle.
Insulation – The most problematic for insulation in mobile homes is under the floor. The home has a "belly wrap" that holds the floor insulation in place. This can often become damage and cause problems.
Washer Drains and Dryer Vents – Often you might see these two items draining and venting directly below the home. These can be especially problematic for the foundation of the home.
Damaged Skirting – Skirting is designed to keep the area below the home dry and critter free. Often skirting may have holes or panels missing. This allows quite a bit of havoc to occur which can damage many mobile home systems.