Nothing seems to do more for a facelift than painting. Whether it is inside or out, a fresh coat of paint is one of the best investments you can make to improve the look and appearance of your mobile home.
Short Answer
Like anything, there are plenty of variables when pricing out any type of paintwork. But, if I were to give you a good attainable price for painting the exterior of your mobile home, I would say a $1.50 per square foot of interior space. 
For example, if you have a 980sf single wide home, you might be looking at ($1.50 x 980sf) $1,470. A 1600sf double wide might cost around ($1.50 x 1600sf) $2,400.
Lets take a look at the factors that can affect the amount you pay and the quality you can expect.
Types Of Mobile Home Exterior Siding
Aluminum
Vinyl
Wood (T-1-11)
Fiber Cement
Depending on the type of siding used on your mobile home, the prep work needed before painting can differ greatly. Also, the expected durability of the paint on that surface will also differ from other types of siding.
When we purchase a mobile home for investment or flipping, we always pay special attention to the exterior, the type of siding it has, and what kind of condition the paint and siding are in.
Let's look in more detail at each type of siding and how it will affect the cost and durability of your new paint work.
 Many of the oldest mobile homes might actually have steel panels for siding. Starting in the late 1950s and through the 1980s many mobile homes have sheet aluminum panels for siding. The older steel sided homes were very prone to rust. There are very few of these homes still in existence so we won't dive into them.
The older corrugated aluminum panel siding that was so popular from the 1960s into the 1980s is long-lasting and durable, but tends to dent very easily. When getting one of these homes ready to paint, check the home for badly damaged panels. Although these can be replaced, it is not an easy task as many of them tend to tuck into the roofing structure. Also, it can be hard to find an exact match. Follow this link for a good online mobile home supply store to look for aluminum panels. The original paint on these tends to be very long-lasting, but can oxidize (appear chalky) very easily.
We bought a mobile home built in 1979 last year. The aluminum panels were in excellent shape. The home was very dirty and dingy looking, but the closer I looked at the dingy paint, the more I thought the paint could be salvaged. My painter had quoted me $1,300 to paint the exterior of this 14×68 home. 
Before painting, we decided to scrub and power wash the exterior. This worked so well on that home that we ended up not even having to paint a 38-year-old home with the original paint. (The home in this aluminum siding picture above is that home.)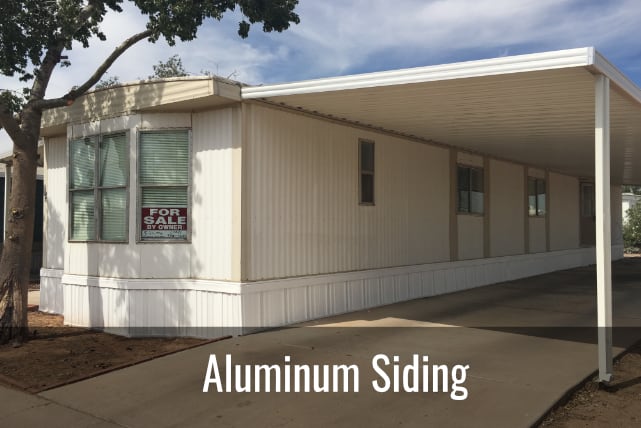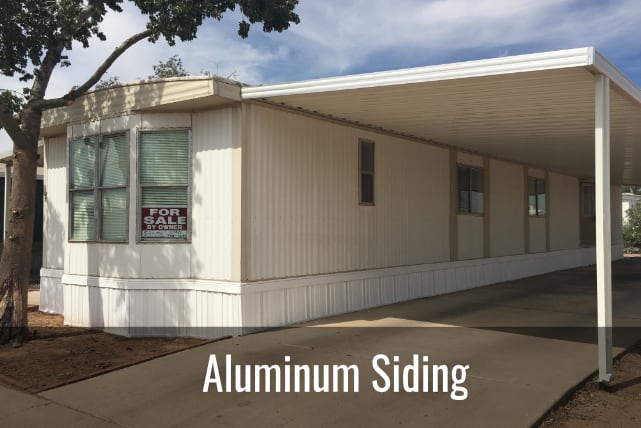 Since the paintwork on aluminum tends to turn chalky over time, this must be cleaned thoroughly before attempting to paint. A professional scrubbing and power wash. If it isn't properly cleaned, the new paint will not adhere properly and within a short time, the paint will be peeling away from the aluminum. Painting aluminum siding should only be done by spraying to get even and consistent coverage.
I find that generally, my painters charge me a little more to paint the exterior of an aluminum-sided mobile home that they do homes with other types of siding. This is because there is quite a bit more prep-work required to get the paint to adhere properly. Depending on the shape of the paint and aluminum siding, I usually can get the job done for $1.50 to about $1.75 per square foot of interior size. Therefore, a 1,000sf home might cost me from $1,500 to $1,750 for exterior paint.
Painting Vinyl Sided Mobile Homes
 Starting in the 1990s vinyl siding has become very commonplace on manufactured housing. Also, many older aluminum sided homes have been covered over with vinyl siding. This type of siding comes in a variety of styes and colors. The color is impregnated into the vinyl itself, so in most conditions is very long-lasting.
Vinyl siding resists minor dings and scratches much better than aluminum does. However, being a type of plastic, it also expands and contracts significantly with the heat and the cold. In the past, many people were told that vinyl siding cannot be painted because the new paint will not adhere to the older vinyl siding.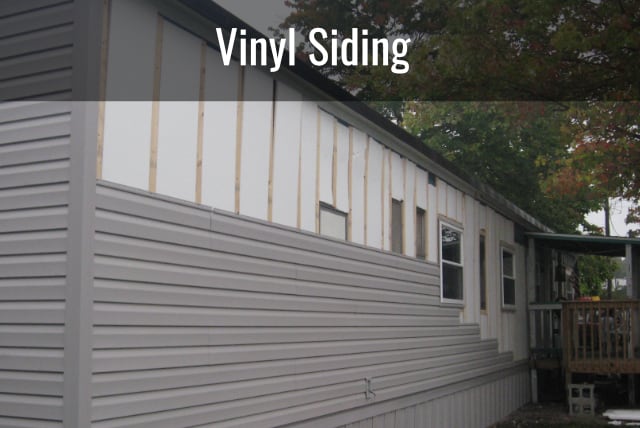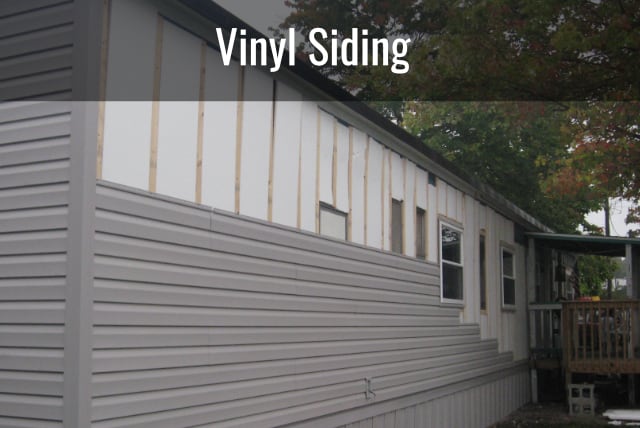 There certainly was some truth to this, especially if the vinyl siding had become badly oxidized. However, paint technology has made great advances in the last 20 years. There are now paints specifically formulated for vinyl siding that are mostly a blend of urethane and acrylic resins which combines great flexibility and adhesion to the siding.
Just like with aluminum, prep-work is paramount to how well a new coat of paint will turn out. A good power-washing and scrubbing is a must in getting the old vinyl siding ready for painting.
Vinyl siding is formulated to only handle heat up to a certain point. Darker paint colors should be avoided as they tend to absorb far more heat than lighter colors. Overheating the vinyl siding beyond what it was designed for can cause it to warp.
Painting vinyl siding will usually run around $1.50 per square foot of house size. The actual paint materials cost more than most other types of siding, so the price could skew to a little more depending upon the paint chosen.
Painting Wood Sided Mobile Homes
 Since the 1980s wood sided mobile homes have become the most common type of siding. Wood siding can be made of plywood, OSB (smaller wood strands compressed together with resin), or engineered wood (MDF).
Wood siding tends to be very forgiving, resisting dents scratches, heat and cold issues. However, paint seems to not last as long over wood siding as it does on other types. This is because all types of wood products are more porous than other materials. Wood will also move significantly with heat, humidity and cold. This movement will cause paint to break down over time.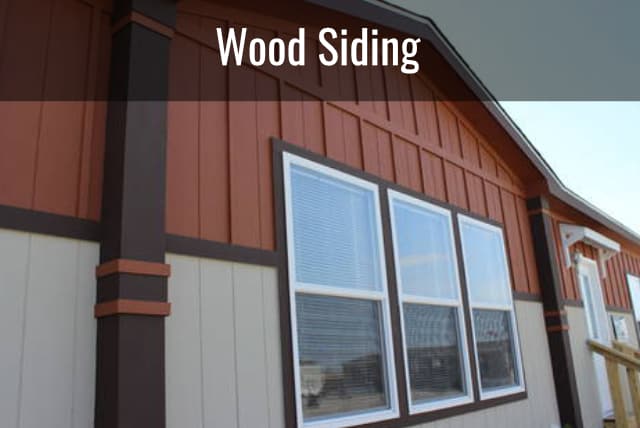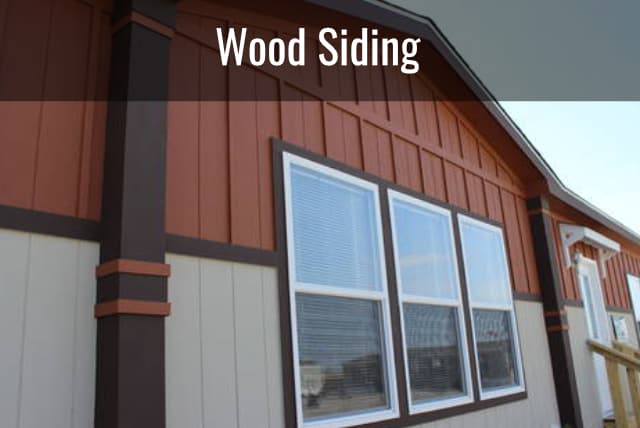 Prep-work for wood siding is a straight forward process. Damaged panels are usually easily replaced If older paint is peeling, then it will need to be scraped and the wood cleaned so that it is free of dirt and dust. It is a good idea to prime any wood siding where bare wood is showing through.
Normal exterior house paint can be used for wood sided mobile homes. Depending on the amount of primer that has to be used, I have several painters who charge me around $1.25 per square foot of interior space. My 1,000sf home example might cost me about $1,250 for a full exterior repaint over wood siding.
Fiber Cement Board Sided Mobile Homes
 Cement fiber board is a newer siding that has become very commonplace with manufactured housing. This type of siding usually looks like wood, but had many advantages over wood siding. 
The manufacturing of cement fiber board uses a complex high-pressure process combining wood fibers, cement and additives. This type of siding usually come in three styles, no-groove, texted lap and panel board. The main advantages of cement fiber board is that it does not swell, warp, and is easy to install. Also, paint on cement fiber board tends to last a long time since it does not flex and swell like wood siding does.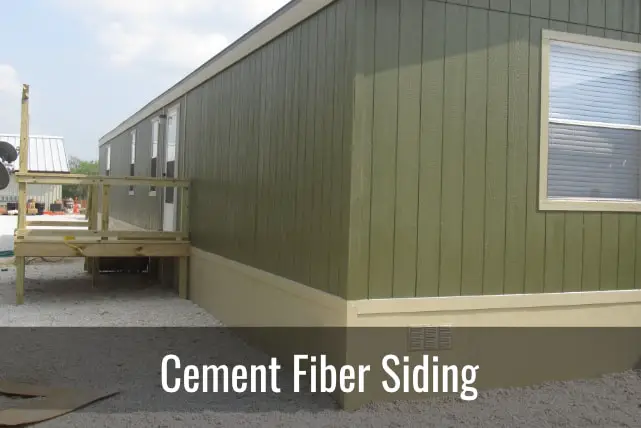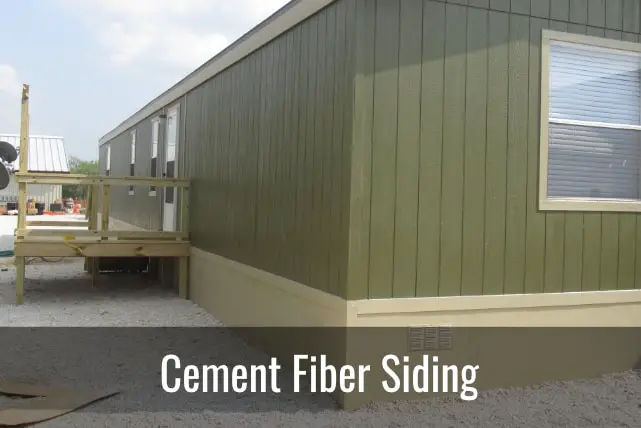 Prep-work for repainting is the easiest, with a simple power wash. I have paid anywhere from $1.00 to about $1.35 per square foot of interior space for homes with this type of siding.
Related Questions
Can you paint mobile home skirting?
Skirting for mobile homes is usually a type of vinyl. Just like with vinyl siding, the skirting will expand, contract and flex quite a bit. The skirting can be painted, but a paint formulation specifically designed for vinyl will need to be used. See the section on painting vinyl sided mobile homes. The process for painting vinyl mobile home skirting will follow the same rules.
How Much Paint Will I Need To Paint My Mobile Home?
One gallon of paint will cover approximately 250 exterior square feet. This is for a single coat only. Let's say that you have a 14 x 60 mobile home. That means that the perimeter of your home is ((14 + 60) x 2) is 148 feet. If your exterior walls are 9 ft high, then you would have (9 x 148) = 1,332 square feet of exterior wall to paint. (1,332 / 250) = 5.32 gallons. If you will be painting 2 coats, you will need to double that figure.