Have you ever walked into a mobile home and immediately noticed the 2 to 3-inch gap underneath the doors? If you have, I bet you've wondered why?
The Short Answer
These gaps under the doors act as the air return system for the HVAC system. The air comes into the rooms via the HVAC registers in the room and then exits the rooms through the gap underneath the door if the door is shut.
Why Such A Large Gap?
When I was about 11 years old, wayyyyy back in the day, my cousins lived in a brand-new double-wide 4 bedroom mobile home. The first time we went for a visit, even at that age I noticed what appeared to be enormous gaps under the doors. I also noticed that the doors seem very thin and hollow. I can remember wondering "why even have doors?"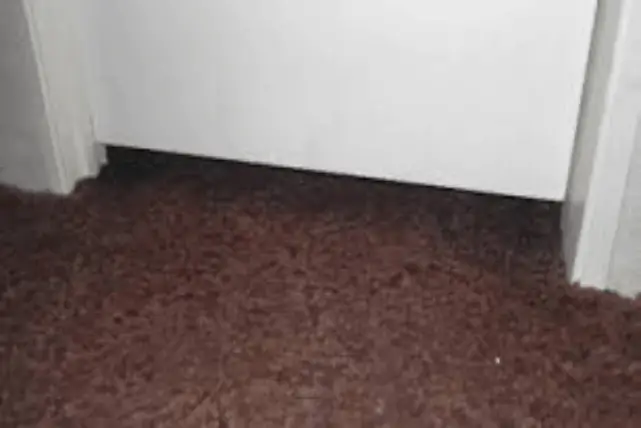 My grandparents retired into a mobile home about a year later and I remember seeing the same thing in their home. My grandfather actually worked in his later years as a field repairman for a mobile home manufacturer.
Being the inquisitive kid that I was I remember asking my grandpa about the huge gaps under the doors. With humor and patience he took the opportunity to explain to me what they were, 
Forced-air HVAC systems "exhale" the air via the HVAC registers located in every room in the house. They are engineered to try and distribute the air evenly for a steady temperature in the home. These same systems "breathe" the air back in generally through a central vent located in one part of the home. Usually a hallway where the HVAC air handler resides.
The gap under the door exists so that if the door to any particular room is shut, the air can escape the room and return to the central air-return duct back into the system?
So Why Don't Site-Built Homes Have These Gaps?
Well, in some areas they do. Just not quite as big. Way back before most homes had central HVAC systems, doors to homes often went down close to the floor. We live in Arizona, where most homes have had central air-conditioning since the 1960s. Homes in our area have always had gaps under the doors; usually about 1 inch. They serve the same purpose; to let the air circulate out of the room and back through the HVAC system.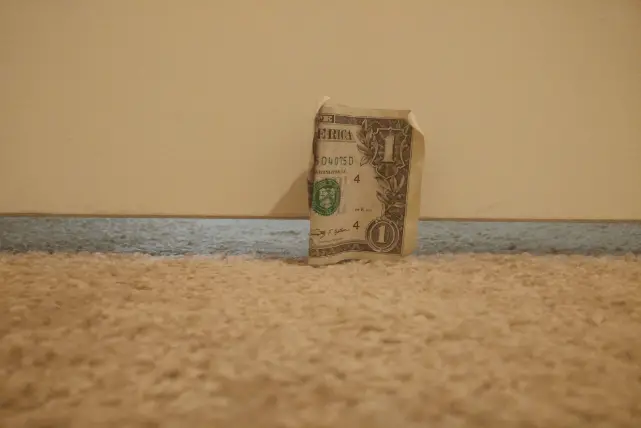 Many older homes had multiple air-return registers throughout the home, but as contractors began to cut costs, many homes built in the 1980s and 1990s had only one air-return register, just like mobile homes.
In the 2000s, the HVAC systems became more energy efficient and sophisticated. Contractors began again to have multiple air-return registers throughout the home. These are where you change your HVAC filter each month. My new home has six of them located throughout the home.
Newer Designed HVAC Systems
Not only were HVAC systems changing for site-site-built homes, but they were changing in the same ways for manufactured homes as well.
HVAC contractors went even further with the efficient air-flow designs for the systems. In some homes vents through the walls were installed above the doors in each room, allowing the air at the top of the room as well as under the door to circulate out of the room.
Many higher-end HVAC systems also have air ducts running through the ceiling of the room connecting rooms together to equalize the air-presser and air-flow. These changes have been made in many newer manufactured homes as well as site-built homes.
Ok, But Why Is The Gap Under The Door In Mobile Homes So Much Bigger?
That, my friend is a good question. Yes, it is for air circulation, but so are the 1-inch gaps in site-built homes. The larger the gap, the more sound that seems to transfer between rooms. Because smaller gaps will transfer the air as efficiently as larger gaps, there is no real reason the gaps need to be 3 inches.
When we remodel manufactured home, we almost always replace the interior doors with new and better ones. When doing this, we install pre-hung doors purchased from our favorite big box home stores. These doors come pre-cut and pre-hung and have only the smaller 1-inch gap under the door. 
These work and look great in the homes we renovate and still provide the needed space underneath the door for the air returns. We also install vents above the doors, so that the room gets better air circulation overall, improving the efficiency of the HVAC system.
Related Questions
1) WHAT SIZE ARE STUDS IN A MANUFACTURED HOME?
Just like with any construction project, construction standards and regulations for Manufactured (Mobile) Homes has gotten much better over the years. Some early examples of manufactured homes were built to be easy to transport and inexpensive to build.
Before 1976 (HUD Standards)
Exterior Walls – 2"x2" or 2"x3"

Many of the very old 8' and 10' wide mobiles used the small 2"x2" studs 
Most of the older 12' and 14' wide homes used 2"x3" studs
Generally, stud spacing is 16" on center

Interior Walls – 2"x2" are the most common

However, in remodeling many older homes I've found interior wall studs on some of them to be 1"x2"
Stud Spacing tends to be 24" on center for interior walls

Truss Roof System (All over the map)

Often 2"x2" or 2"x3" truss structures
Top member of truss is often arched without a center peak
Post 1976 HUD Manufactured Homes
Exterior Walls – 2"x4" or 2" x 6"

There are a few instances where 2"x3" may be available depending upon wind standards
Spacing is almost always 16" on center

Interior Walls – 2"x3" or 2"x4"
Truss Roof System

Generally 2"x4" truss systems
Some new builders may offer 2"x6" on certain models as options
For additional learning, see our post "What Size Are Studs In A Mobile Home?"
2) CAN TANKLESS WATER HEATERS BE INSTALLED IN MOBILE HOMES?
I love to flip houses, but my market has been supersaturated with the competition. So, for the last few years, I've exclusively been flipping and investing in mobile homes.
I've been considering installing a tankless water heater in one of the homes, and I thought I'd share what I learned from my research.
Yes, you can add a tankless water heater to a mobile home, but you need to find out what on-site gas or electric changes need to be made in order for your home to accept the tankless water heater. You also need to consider your local climate when determining where to install the water heater.
Tankless water heaters are becoming more and more popular because they offer many great benefits to homeowners. However, there are also some misconceptions about theme out there that I wanted to share with you.
Before you attempt to install a tankless water heater in your mobile home, here are some important points that I'll be covering:
Myths About Tankless Water Heaters
Benefits of Tankless Water Heaters
Gas Water Heater Needs
Electric Water Heater Needs
How Your Climate and Surroundings Affect Where You Can Install Your Water Heater
A quick side note that I'll address a little more later in this post. Installing a tankless water almost always requires changes to your home. These changes will vary depending on whether or not you have an electric or gas water heater. These changes can be quite costly, and they may deter you from installing a tankless water heater.
For additional learning, see our post "Can Tankless Water Heaters Be Installed In Mobile Homes?"